Imagine a better way with Bord Gáis Energy
21 June, 2021
A third of people say they need to reimagine their home space, 'Imagine a better way at home' event to take place on 21 July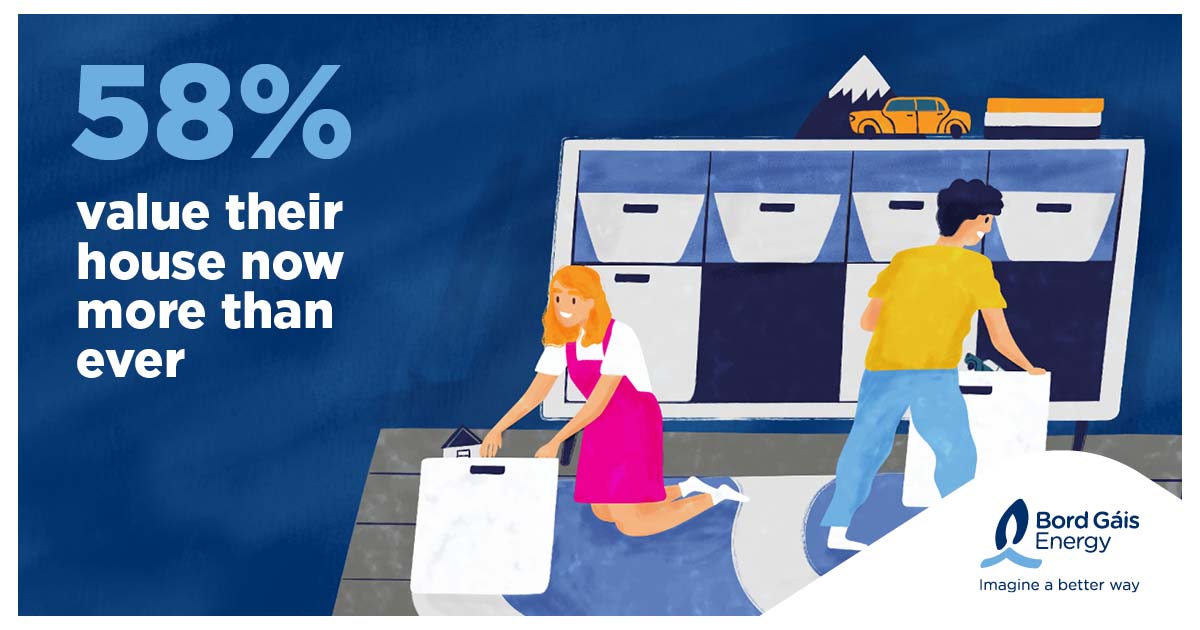 Key findings
Almost half say their relationship with their home has changed in the last year
58% value their house now more than ever
32% say they need to reimagine their living space
Half want to upgrade their garden / outdoor space, while 41% want to make their house more sustainable
Bord Gáis Energy to host 'Imagine a better way at home' event on Wednesday, 21 July with TV gardener, Peter Dowdall, award winning interior designer Suzie McAdam and former Room to Improve quantity surveyor Lisa O'Brien
Almost half of people (49%) say their relationship with their home has changed over the last year and 58% say they now value their home now more than ever. That's according to new research by Bord Gáis Energy, the leading services and energy provider to homes and businesses.
The research into attitudes towards our homes reveals that while we value it more than ever, 46% plan to make changes to their property this year, while 32% want to reimagine their home space to reflect the changing way we now live.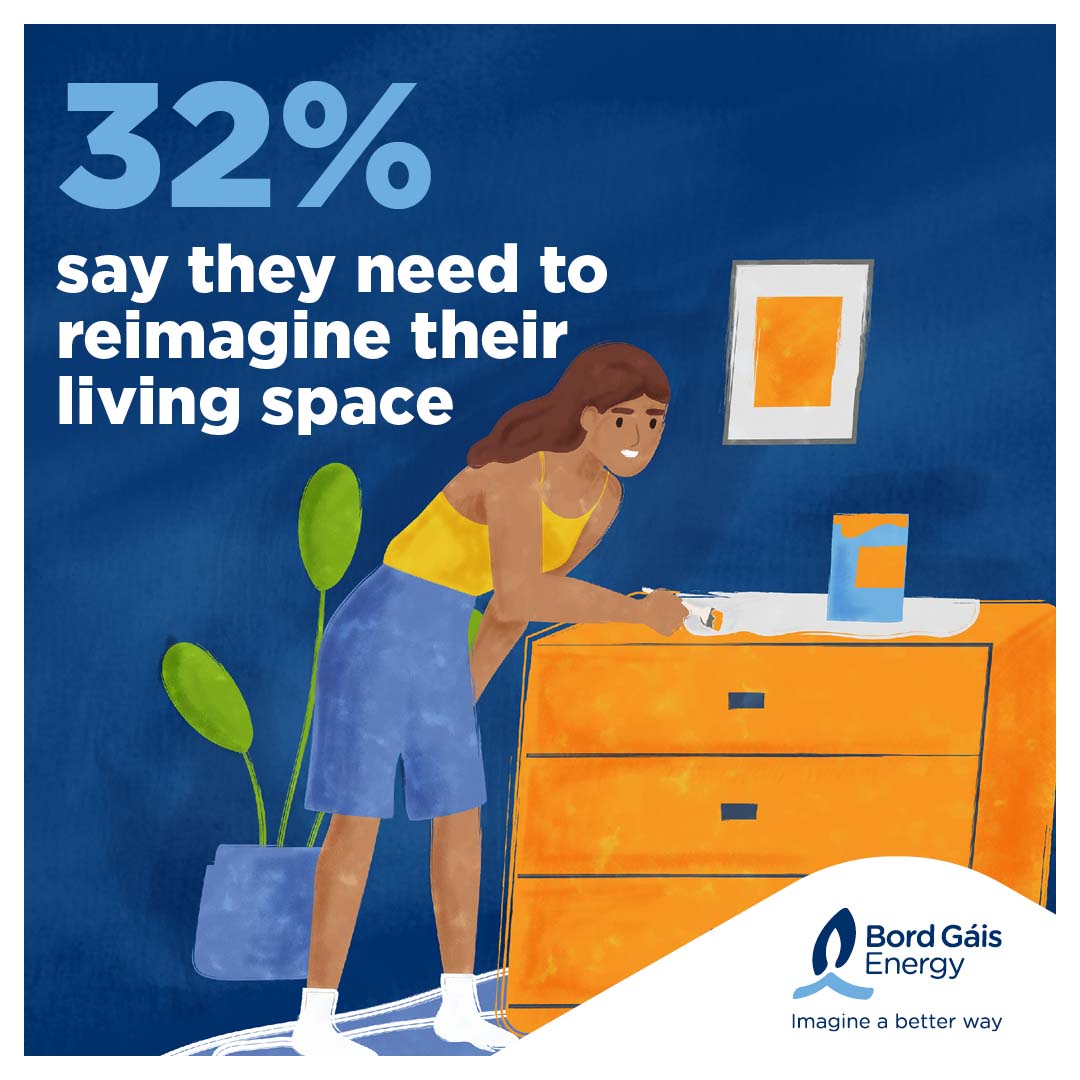 The research of 1,000 adults was carried to celebrate the launch of Bord Gáis Energy's new brand positioning – Imagine a better way. As part of this new positioning, Bord Gáis Energy aims to imagine better ways for customers to live, work and enjoy their free time; whether that's through helping customers live more sustainably with smart energy saving plans and innovative products solutions, to providing brilliant and exclusive rewards through the Bord Gáis Energy Rewards Club.
Imagine a better way to live, work & play
It seems that the way we use our home spaces has changed forever since COVID-19, with more people now seeing their home as not just a place to reside but a place to live, work and play. Post COVID-19, 44% say they see themselves continuing to spend more family time spend at home, 32% say they intend to keep working from their property, while a fifth will keep entertaining and socialising at home.
Imagine a better way to renovate
Having spent the last 12 months indoors, it's perhaps no surprise that just over half (51%) of those questioned want to make changes to their garden and outdoor spaces. Almost two thirds (63%) cited it as the place where they relax and 31% say they have now started to enjoy al-fresco dining in their garden over the last year.
Thinking about making their interiors suitable for the future, 41% say they want to upgrade their house to make it more sustainable and energy efficient with a quarter planning on starting the process this year.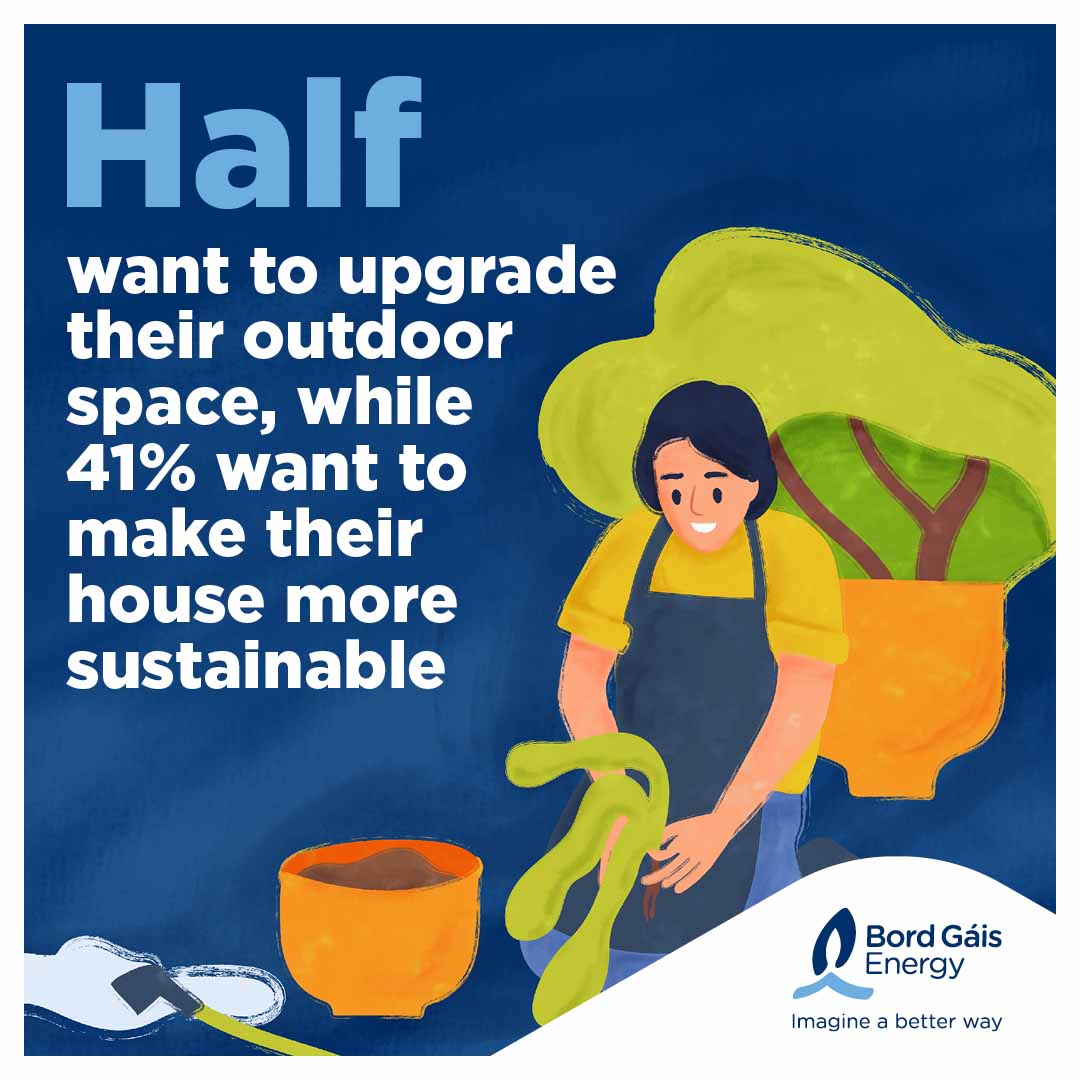 As Ireland's leading services and energy provider, Bord Gáis Energy offers a range of solutions and products to help customers lower their carbon footprint in their homes. This includes Hive smart home devices, smart energy plans and Ireland's first dual fuel green energy plans which offer 100% green electricity plus 10% gas, both from renewable sources.
Commenting on the launch of the new positioning, Colin Bebbington, Retail Director with Bord Gáis Energy said: "The energy sector is changing and evolving, as are our customers' lives which are now more complex than ever. Customers want more from their energy provider; more sustainable solutions, smarter products and services, all coupled with unrivalled expertise and value. That's why at Bord Gáis Energy we're committed to imagining a better way for our customers by offering sustainable, affordable, and simple services and solutions.
As we transition to net zero carbon emissions by 2050, customers can expect to see new thinking, new innovations and upgraded solutions around energy management from us,  while knowing that the energy they use to power today is being brought to them by the people who are thinking about how to manage that energy to protect tomorrow.'
Imagine a better way at home event
To inspire householders, Bord Gáis Energy has teamed up with a panel of well-known home experts - TV gardener Peter Dowdall, award winning and internationally renowned interior designer Suzie McAdam and former resident quantity surveyor on RTÉ's Room to Improve, Lisa O'Brien to host 'Imagine a better way at home', a virtual event taking place on Wednesday 21st July from 12pm – 1pm.
The panel of experts will share their top tips and expert advice on how to get the most out of your
redesigns and renovation projects whether you're imagining redoing your garden to trying to make
your home more sustainable.
The event is free and to secure your place, simply register today from 9am at http://www.imagineabetterway.eventbrite.ie/
About Bord Gáis Energy
Bord Gáis Energy is an energy and services supplier in the Republic of Ireland. The company has been in operation since 1976 and currently supplies energy and services to over 700,000 business and residential customers. In 2014, Bord Gáis Energy became part of the global Centrica plc Group.

FOR FURTHER INFORMATION
Angie Grant | Kate Wilkinson | Maeve O'Brien
Teneo
086 377 2791 |087 150 6095 |