Centrica Business Solutions
Turning Energy into Opportunity 
What if you could understand your energy usage better? What if we could tell you how much energy your appliances and devices are using and when? Or even when something is about to go wrong?

What if you could generate your own energy, capture the generated heat and use it to offset your energy bills and carbon emissions?
Now you can! Our partnership with Centrica Business Solutions has enhanced our offering to businesses like yours with innovative energy solutions that help reduce your day-to-day energy costs giving you that all important competitive advantage.
Making change happen
Explore how you can take advantage of these solutions, create opportunities for growth and reduce energy spend.
Speak to your Key Account Manager today or
Energy Monitoring & Insights 
Using self-powered Centrica Business Solutions Wireless Sensors, coupled with their cloud-based energy management platform, PowerRadarTM, Energy Insight provides real-time visibility and insights into your businesses energy usage to help you:
Improve your operational efficiency
Unlock value for your business
Reduce costs
Is Energy Insight right for your business?
Energy Insight has been successfully used in virtually every industry!
To make it easier for you to decide if it suitable for your business, we have gathered together a list of essential questions. If you answer yes to the following questions, then Energy Insight is worth considering.
Does your operation rely on energy-using assets?
Are you concerned about your operational efficiency?
Do you suspect you have areas of energy wastage?
Could you benefit from clearer visibility of the performance of all your devices?
Learn more
How we helped
"Energy Insight has identified the usage trends associated with individual circuits such as lighting, food preparation and heating. We have also identified high end users [of energy] throughout the premises on match and event days. We will feel that this will have a huge positive impact on performance efficiencies and predictive maintenance."
– Peter McKenna, Croke Park Stadium Director 
Combined Heat and Power (CHP)
CHP converts a single fuel into power and heat simultaneously, right on your own site. CHP is:
Sustainable and efficient 
Cost-effective 
Low carbon 
A resilient source of energy
Is CHP right for you?
CHP is ideal for businesses who want to reduce energy costs and carbon emissions – whether you're a small to medium enterprise or a large-scale industrial user.
If you can answer yes to any of the questions below, then CHP is worth considering.
Do you use heat and power?
Is the cost of your energy rising?
Do you want to reduce your carbon emissions?
Are you looking for a stable on-site energy resource?
Learn more about how CHP could help your business (PDF 546KB).
Why choose energy solutions from Bord Gáis Energy?
Through our partnership with Centrica Business Solutions, we are able to offer innovative energy management solutions to help Irish businesses deliver improvements in operational performance, create opportunities for growth and reduce energy spend.
With Energy Insight's unique capabilities, you have the reassurance of our expertise and experience. Centrica Business Solutions is a leading player in the global energy industry. They have a track record of delivery for business customers, with Energy Insight collecting real-time energy data for over 4,000 sites in over 30 countries.
With CHP, we work with you from the beginning, helping you benefit from maximum savings and efficiencies. We can monitor and maintain your unit throughout its life, to make sure you continue to receive the full benefit.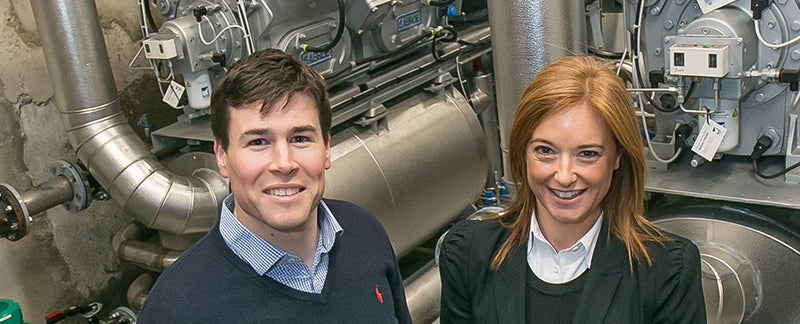 Insights into energy
"Bord Gais Energy worked with us to install Energy Insight at one of our Kilkenny sites and we have identified areas around this site where we can take action to reduce our energy usage. The live reporting and alerts available from the system, allows greater insight into our business energy usage."
– Paul Grant, Procurement Manager, Glanbia