Why choose Bord Gáis Energy?
Imagine a better way with Bord Gáis Energy
At Bord Gáis Energy, our services and solutions are re-imagining how we use our energy. Like turning your house into a smart home with our energy bundle or protecting the future of those we care about with our sustainable solutions.
We offer a range of brilliant possibilities including boiler servicing & repair, smart technology, sustainable solutions and discounts on your energy. Because how we choose to use our energy, is how we choose to live our lives.
Learn more
Benefits of choosing Bord Gáis Energy
We have some great benefits of being a Bord Gáis Energy customer. This can help you to; manage your account, pay your bills, get rewarded, track your billing, repair and service you boiler.
Find the plan that suits you
We have a range of plans designed to suit the needs of our customers, you just need to tell us about yourself and we will share the plans that will best suit your home and lifestyle
Find a plan
Bord Gáis Energy Smart Plans
About Smart Meters and Our Smart Plans
Make the most of your smart meter with a range of smart plans that will help improve energy efficiency, lower your energy bills and reduce your carbon footprint.
Learn More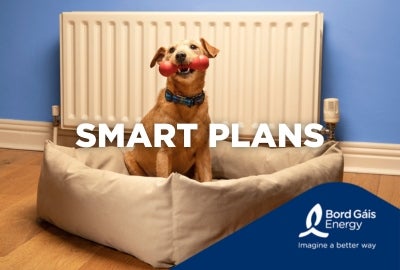 Our partners
All of our partnerships are chosen on the basis that they support our customers' interests and provide them with the opportunity to avail of unmissable experiences. 
Bord Gáis Energy Theatre
On 7 March 2012 the Grand Canal Theatre was officially renamed the Bord Gáis Energy Theatre. This day marked the beginning of an exciting partnership.
Rewards members can benefit from; 
Pre-sale and discounted tickets to upcoming shows at the theatre
Exclusive VIP nights especially designed to ensure our customers 
Learn more
GAA
At Bord Gáis Energy we've a long-standing association with the GAA as proud sponsors of the GAA Senior All-Ireland Hurling Championship since 2017 and the GAA Legends Tour Series of Croke Park since 2013.
Through the Bord Gáis Energy Rewards Club, our customers can avail of a wide range of exclusive offers including;
Senior hurling match tickets 
Winning 'money can't buy' experiences across all of our GAA sponsorships
Learn more
Not signed up?
To register your account you'll need an old energy bill to hand (for your account number and MPRN/GPRN). 
Register now
Already registered? 
We've got offers waiting for you, simply login below.
Login
Working with Focus Ireland to meet the challenge together
The prevention of family homelessness in Ireland is an area where we believe we can make a real difference and through our partnership with Focus Ireland, we have been working on making this a reality since 2015.  Our partnership has already directly supported over 7,000 families experiencing homelessness or at risk of losing their home.
We're delighted to extend our partnership with Focus Ireland until 2025 and have pledged a further €2 million to help tackle family homelessness. This brings our total commitment to €4.4 million since we joined forces with Focus Ireland in 2015.
During the next phase of our partnership, we will assist a further 10,000 families through advice, information and support programmes, and directly prevent 1,000 families from ever entering homelessness.
Bord Gáis Energy will also sponsor Focus Ireland's new initiative called the Lived Experience Ambassador Programme (LEAP) which will enable people who have lived experience of homelessness to share their stories and help raise awareness of the issue.  Another key element of the partnership is the Bord Gáis Energy Empowerment Fund, which enables vulnerable children to have normal moments of childhood from basic items like new school uniforms to family outings or more critical interventions such as medical assessments.
Everyone at Bord Gáis Energy and Focus Ireland is supportive of this partnership and immense work has been done to make the partnership a success. We believe that every child needs a safe place they can call home, and we will work together to do everything we can to help make that happen.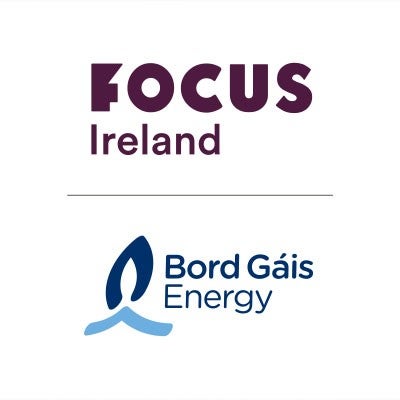 Find an Energy Plan
Do you want to beat the current Irish market rates for your energy, but you're not sure how? Are you looking for ways to make great energy savings?
A new energy supplier offering innovative and sustainable solutions could be all you need to get the freedom and flexibility that you're after. We know the whole business of switching suppliers can be daunting. 
That's why we've come up with a simple way of helping you find the ideal plan for your energy needs in a matter of minutes.
Find a plan