How to choose the right home energy plan
Find an energy plan
Are you looking to get the best market rates for your energy, but you're not sure how? Are you looking for ways to make great energy savings?
We know the whole business of switching suppliers can be daunting. That's why we've come up with a simple way of helping you find the ideal plan for your energy needs in a matter of minutes.
A reliable energy supplier, offering innovative and sustainable solutions could be all you need to get the freedom and flexibility that you're after. How do I find the best deal?
Finding the best deal starts with understanding the value you're getting from your current plan. For example, assemble your bills for the past year and calculate the average monthly kilowatt per hour consumption. Look up how your supplier's tariffs compare with those of other suppliers.
To gather information, ask your supplier probing questions, such as:
What are the terms of my contract, and when will it expire?
Are my charges going up, since when, and by what percentage?
Can you offer me a better plan?
If the supplier is out of options or suggests a plan that doesn't resonate with you, your next step is to compare the energy prices offered by various suppliers. You can dig deeper into comparing electricity and gas prices to see which type can help you minimise expenditure in the long run.
If you choose a dual fuel plan from Bord Gáis Energy, you'll enjoy the convenience of managing and controlling your energy supply from a single platform, and you'll enjoy great discounts on each fuel (electricity and gas).
Try our 'Find a Plan' tool
Our 'Find a Plan' tool gives you personalised energy plan recommendations to help you make the right switch in three simple steps.
Choose which service you're interested in, whether it be gas, electricity or dual fuel.
Describe your energy usage. The more detail you give, the more personalised your results will be!
Choose any other services you might be interested in (Smart home technology, electric vehicles, boiler services and more).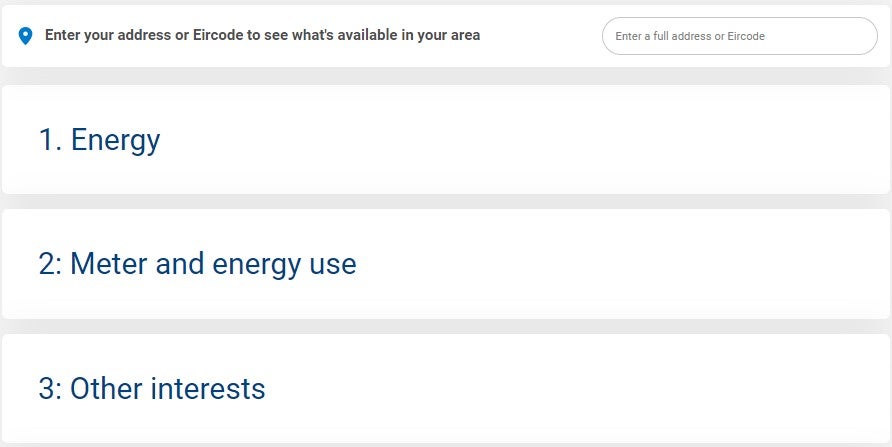 Features
Personalised Annual Bill projection - Fill in your annual energy usage and you'll get a projected Personalised Annual Bill, giving you a better idea of what you might spend
Save plans for later - If you're short on time or need to come back to the plan choices midway through the process, you can save your recommended plans for later by entering your email
Plans that match your interests - Once your journey's complete, you'll receive a personalised set of plans to choose from based on your usage, interests and lifestyle
Try Our 'Find a Plan' Tool Now
Still not sure how to use our plan finder tool? Take a moment to watch this step-by-step tutorial for further guidance.
Why should I switch energy provider?
As a Bord Gáis Energy customer, you enjoy unique benefits and services that simplify your energy consumption and management experiences. 
Here are some of the reasons why our customers choose us:
Online Account Management - With our easy-to-use Online Account Management tool, you can submit your meter readings, view, pay (with your Debit or Credit Card) or print your energy bills and statements at ‌any time and from anywhere in the world
Paperless Billing & Direct Debit - Get a 3% discount on your bills by turning on Paperless Billing and start receiving secure email alerts whenever your bill is ready. Paying by direct debit, you'll get a further 2% discount. Say no to paper mails and help protect the environment
Loyalty Rewards - We have partnered with the GAA, Zurich, and Bord Gais Energy Theatre to ensure that you receive unmissable rewards for choosing us. For example, through our partnership with Circle K, you'll save 3 cents for every litre of fuel
Boiler Breakdown and Repair - Keep your boilers ticking by having them maintained and repaired by our insured and RGII-approved engineers
Green Energy Price Plans - A simple, hassle-free way to create a greener Ireland is with our green plans which guarantee that 100% green electricity and 10% green gas have been matched from renewable sources
Free Time Saturday or Free Time Sunday Plans - Enjoy free energy between 9am and 5pm at weekends by installing a smart meter in your home
Hive technology - Control your heating from your smartphone with our beautifully designed smart thermostat and save energy when nobody's home
Make the smart move and switch to Bord Gáis Energy for an affordable and sustainable energy plan for your home or business. 
These are just some of the great reasons to choose us as your trusted energy provider. Here are several more.
Find the plan that suits you
We have a range of plans designed to suit the needs of our customers, you just need to tell us about yourself and we will share the plans that will best suit your home and lifestyle
Find a plan
When can I switch to Bord Gais Energy?
You can join Bord Gáis Energy at any time. As for ending your contract with another supplier, you may want to consider making the switch when your current contract expires. This way, you won't be obligated to your supplier.
But if you wish to switch and the expiry date seems too far away, you can apply for an early exit by paying a termination fee.
The law requires energy suppliers to allow customers to use the first 14 days after signing an energy supply contract as a "cooling period." During this trial period, you can exit without paying the fee.
Another time to switch is when you've moved from a rural to an urban area. Rural standing charges are comparatively higher because of the extra cost of maintaining the energy infrastructure. To know your supply region, look below your MPRN. If you see DG-1 text, that means your supply classification is urban. DGI-2 means your supply region is rural.
If for some reason, your account remains dormant for a period long enough to be a contract period (12 months), you become a new customer. Your customer status ends, and you're considered a new customer. That's an opportune time to switch to Bord Gáis Energy.
How do I save money on my energy bills?
Saving money on energy bills begins with installing a smart meter and moving to a residential smart plan, which gives you more control and free hours of energy on specific days.
Some suggested further information for reducing your energy bills can be found within the following resources: How do I start saving today?
If you're keen to avail of the very best energy plans we've outlined above, simply begin the Find a Plan journey today.
Once you're a registered customer, we look forward to welcoming you aboard with an online account where you sign in and enjoy the best energy deals and unique rewards available to you as a Bord Gáis Energy customer.