Will you contact me before my contract is coming to an end?
Yes; we'll send you a letter or email 45 days before your contract end date, to remind you that your contract is ending. The letter or email will confirm your options, and give you details of our current best offers.
For us to contact you other than by this letter, we need your permission for us to contact you about our products and services. To ensure you hear about the best offers available, follow the steps below to turn on your marketing preferences:
Sign in to your online account. If you don't have an online account, you can register here.
Click on your 'Profile' tab in the top-right corner.

Scroll down the page until you come to the 'Marketing Preferences' box. Turn on your marketing preferences by ticking the individual boxes (if this isn't already done). Once you've completed this, click the 'Save Changes' button.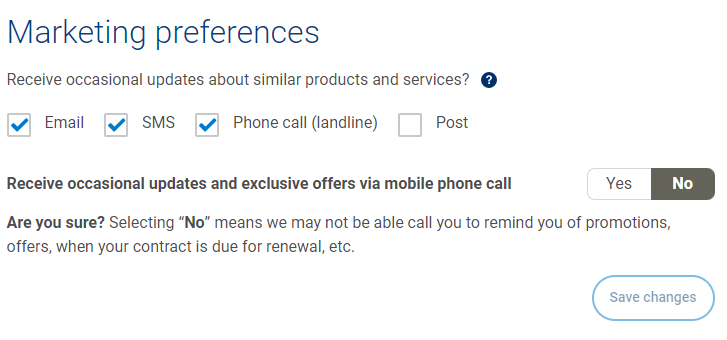 Please note you can view your contract end date at any time by checking your latest bill. You'll see your contract end date in the top-right corner, underneath your account number and plan name. This applies to all bills issued from 20 June 2023.
Related FAQs