Imagine a Better Way with Bord Gáis Energy
15 July, 2021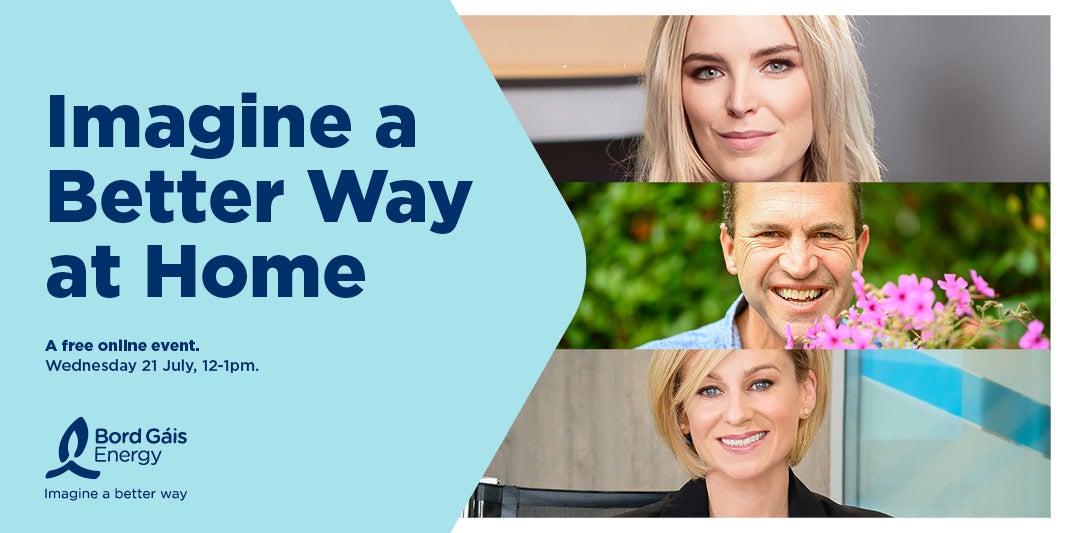 Quantity Surveyor Lisa O'Brien and expert gardener Peter Dowdall share their top tips on how to upgrade your home and outdoor space
Both Lisa and Peter will join Suzie McAdams at 'Imagine a Better Way at Home' event taking place on Wednesday 21 July with expert renovation, design and sustainability inspiration
New research by Bord Gáis Energy, the leading services and energy provider, reveals that almost half of us say our relationship with our home has changed over the last year, with 46% wanting to change or reimagine the space within their home through redesign and renovation.
It's not just indoors where we're starting to think differently about the spaces we live in. Of the 46% of us planning to make changes to our homes this year, upgrading the garden and outdoor spaces came in top of the list with over half of respondents keen to spruce up the shrubbery, followed by a desire amongst 41% of respondents to make their property more sustainable.
According to research, 54% of homeowners looking to make a change say they are concerned about managing the budget associated with a home makeover, while 19% are worried about the stress of taking on such a project.
Starting any big home project can be daunting but to help you on your way, Bord Gáis Energy has enlisted the help of former resident Room to Improve quantity surveyor Lisa O'Brien, interiors expert Suzie McAdam and TV gardener Peter Dowdall to give you their best advice on how to make a start on your dream home design this summer at a virtual event taking place on July 21; 'Imagine a Better Way at Home'. For those of you who can't wait until July 21, Peter and Lisa have shared some of their top tips;
Lisa's Top Tips
Hire the right professional: An Architect is best placed to advise on an appropriate design which factors in your existing home including its limitations and best attributes, your requirements, needs and wants, building regulations and current legislation.
Feasibility Study: 'The Feasibility Study' is a really important part of any renovation project as it aligns your design aspirations with your budget! The architect or designer will issue sketch designs to the quantity surveyor who will produce a fairly accurate cost plan.
Material Selection and Specification: Diligence is required when selecting materials to incorporate in your renovation. Selecting locally sourced or 'off-the-shelve' products will avoid lengthy lead in times and are generally less expensive.
Existing Heating, Plumbing and Electrics: If you're 'adding on' to an existing system both for electrics and heating systems, it is advisable to get a qualified plumber and electrician to review the existing system to ensure that it can take additional heating and electrical points.
Keep it simple: Fashions and trends constantly change, selecting finishes that are neutral and good quality will stand the test of time; colour and texture can be added through soft furnishings and furniture.
Contingency, Contingency, Contingency: Even the best laid plans can go awry! Expect the unexpected. Always allow a contingency of 10% to 15% in your budget for unforeseen events or costs.
Peter's Top Tips
Consider colour: Using plants which bloom at different times of the year not only provides a food source for the pollinating insects throughout the seasons, but it also makes our gardens much more beautiful over a longer period of time allowing you to enjoy your outdoor spaces all year round.
Find the balance: A good garden is all about maintaining the natural balance. This means allowing a wide diversity of species to thrive in the garden to protect against the unnatural build-up of one species.
Waste not, want not: Both kitchen and garden waste can easily be composted to provide you with a rich source of fresh garden soil. The trick is to make sure you add a good mixture of ingredients and don't simply fill your compost bin with one material.
Feed the bees: We simply couldn't exist without them and many are now under threat, so it's important that we use plants in the gardens which will provide them with food. If you can leave a patch of your lawn area to grow wild, then this will provide a nutrient-rich meadow area for bees and other wildlife to feed and to nest.
The event is free and to secure your place, simply register at http://www.imagineabetterway.eventbrite.ie/
About Bord Gáis Energy
Bord Gáis Energy is an energy and services supplier in the Republic of Ireland. The company has been in operation since 1976 and currently supplies energy and services to over 700,000 homes and businesses. In 2014, Bord Gáis Energy became part of the global Centrica plc Group.
FOR FURTHER INFORMATION
Maeve O'Brien // Teneo // 087 984 5598 // Maeve.Obrien@teneo.com