The Ultimate Guide to Smart Homes in Ireland
Irish people are rapidly adopting smart home technology. With sustainability, convenience and affordability front and centre of many energy consumers' minds, the adoption of smart homes helps homeowners manage all their home devices from a single, central hub.
With 50% year-on-year growth in home automation, Irish people are steadily embracing smart home technology and regularly upgrading their devices and gadgets.
Given the ever-evolving wealth of cool gadgetry and functionality fueling the rise in popularity, smart home adopters can maximise home security and remotely control home features, such as heating their houses or regulating lighting and crucially, smart homes come with increased energy efficiency as well as improved appliance functionality.
In this guide, we cover the concept of a smart home and how it works. You'll learn the various components of a smart home, such as a smart living room, smart speakers, smart lights, smart thermostats and smart kitchen appliances, among others. 
The aim of this guide is to help you understand whether or not you should make the shift to a smart(er) home, which comes with loads of practical benefits.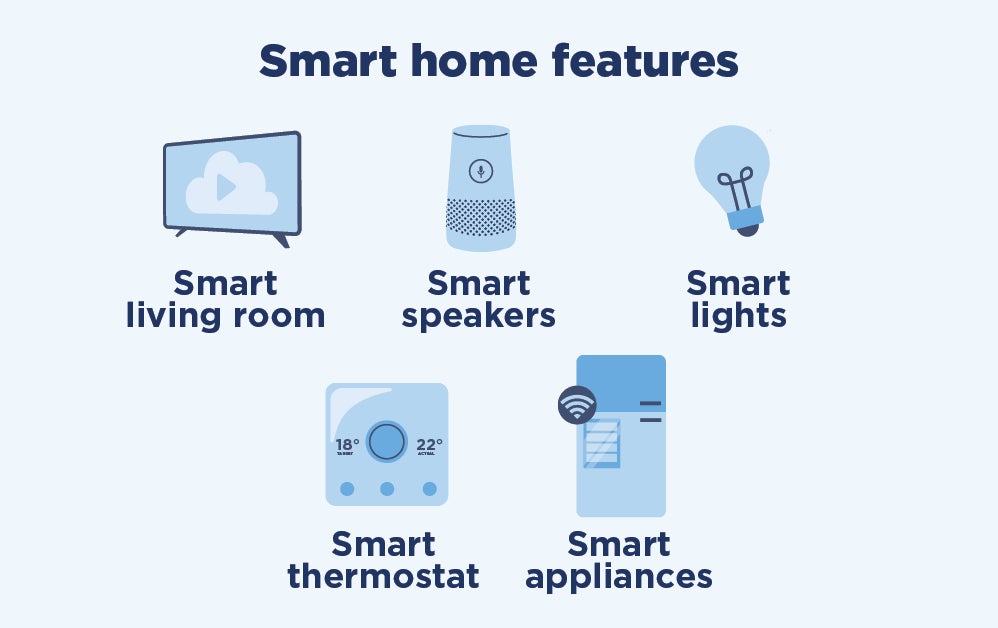 This guide explores all the essential details that you need to know about a smart home and the possibilities at your fingertips through smart home products and gadgets. We're confident all your questions about smart home products and features will be answered and we're here to help you make a fully-informed decision on tooling up for a more connected home should you choose to.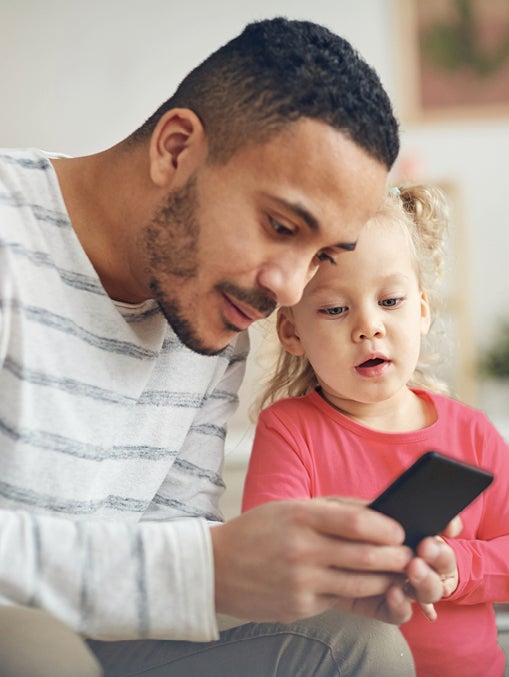 What is a Smart Home?
A smart home makes it easy for you to remotely control your internet-connected devices, all from your smartphone.
Common appliances that feature in a typical Irish smart home include lighting and heating within the house, but can also include smart tech such as solar energy systems, virtual assistants, smart vacuum cleaners, fridges, washing machines and even smart kettles!
Sometimes referred to as an 'automated home'; a smart home provides homeowners with a secure, comfortable, convenient, and energy-efficient living quarters and allows its residents to control the available smart devices via a smart home app installed on their smartphones or other networked devices. Smart home adopters can also control such devices through common voice commands on popular voice assistants such as "Alexa…", "Siri...." or "Hey Google...", tapping into a world of opportunity powered by cutting-edge tech in their homes.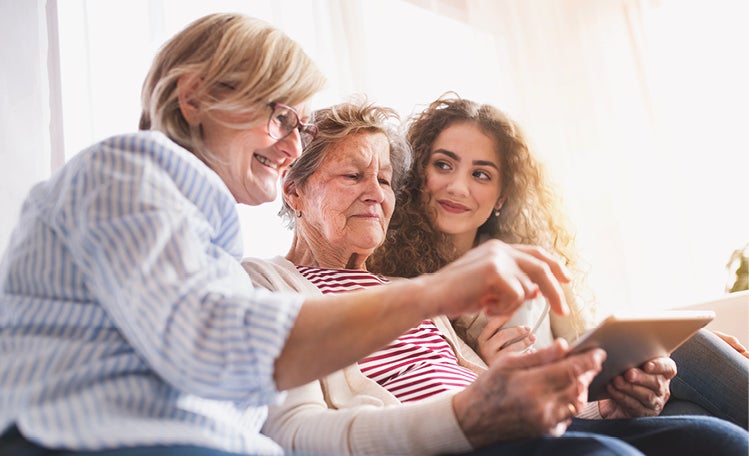 Smart homes are part of the Internet of Things (IoT), where smart home devices and systems often operate together. Such devices and systems share consumer usage data among themselves and execute automatic actions as based on the homeowner's preferences. A smart home is something that you really need in your Irish home to make it more secure, comfortable, and convenient.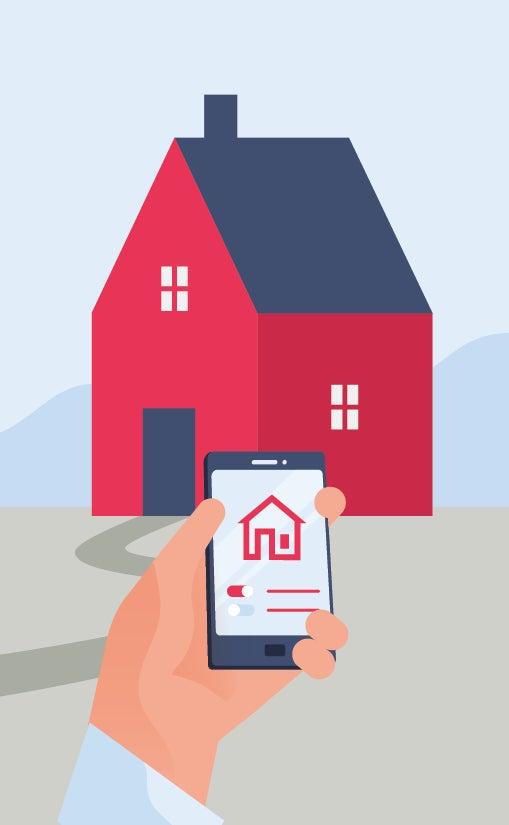 Smart Living Rooms 
Smart TVs make up an integral part of the smart living room, featuring popular applications such as Netflix, YouTube, RTE Now, Amazon Prime, and other applications that interest Irish homeowners.
A smart TV is basically a television which is connected to the internet, giving you access to content from your favourite streaming service or app and other digital platforms without using your phone or computer. You can also engage in social networking as well as stream music and video games within your living room, via your smart TV.
Setting up these applications isn't difficult because some of the common applications will already be pre-downloaded and available on your smart TV, meaning they're 'plug and play', all you have to do is sign-in to use them, assuming you're connected to Wi-Fi or a wired internet network. Your TV could also have a smart TV box such as a Fire TV Cube or Chromecast; these devices essentially allow you to incorporate voice commands to operate your TV, with many modern Android TVs coming with this functionality out of the box.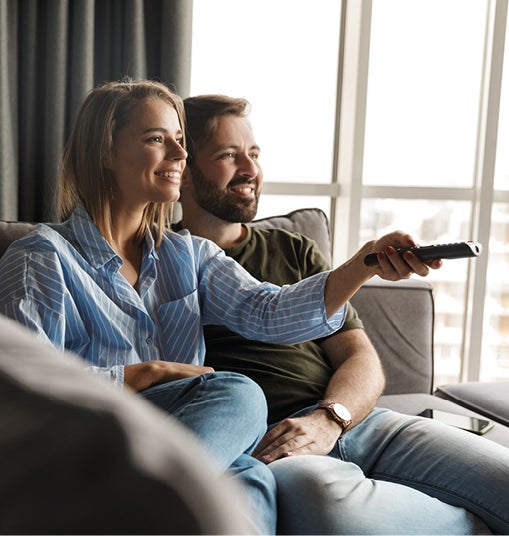 Smart Speakers
Smart speakers allow you to access your favourite tunes, catch up the news, or even check out a podcast, freely and conveniently. A smart speaker can easily connect to popular music and podcasting subscription services such as Spotify, Acast, Apple Music and more via Bluetooth, allowing music recommendations based on the music you've listened to previously.
Many smart speakers can calibrate their sound based on the music genre as well as from the basis of the room's dimensions. This means that the music volume will be adjusted accordingly to suit your comfort.
There are various smart speakers available in the market today, which can fit your budget. If you're interested in a simple experience, Google Assistant-powered Google Mini has proven a popular choice among Irish consumers. In the same category, Amazon Alexa powered Echo Dot is also an easy way to go. These two options are available in Ireland for under €60 but are limited in terms of their power.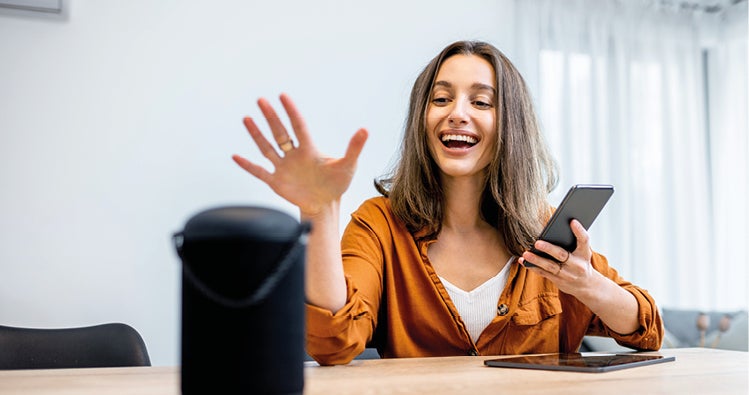 In the mid-range level, you can find smart speakers such as Google's regular Home and the normal Amazon Echo. These two speakers go for about €99. The two companies also offer smart speakers with screens, such as the Google Home Hub and the Amazon Echo Show. These options come with the ability to watch videos and make video calls. 
At the higher end of the scale for Irish smart home consumers, Apple provides the HomePod. This is a powerful speaker when compared to its rivals. It offers an all-round sound and music experience. The HomePod runs on Apple's Siri, these smart speakers will make your home smart and give you an exceptional listening experience.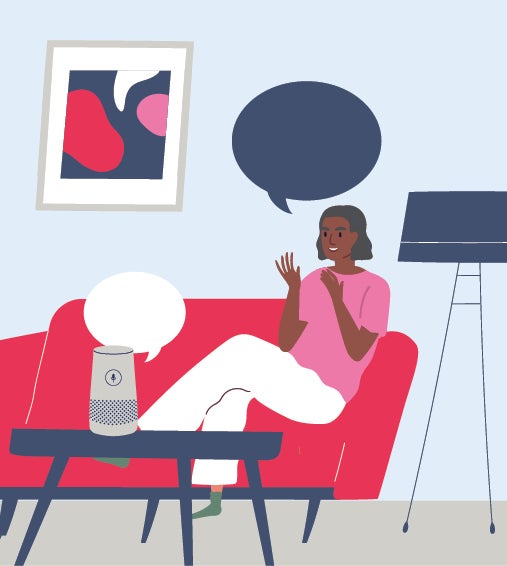 Switching On to Smart Lights
Smart lighting is the lighting which can be either controlled via an app or through the use of voice. The app enables you to change the bulb brightness or change the light colour or effect on coloured LEDs, opening up a whole world of possibilities for your home with various lighting recipes to suit the mood or occasion.
This means that you can essentially have various lighting options for your home, such as for dinnertime, reading, watching movies, cooking, and many other options. Smart lights can also be controlled using your voice to issue commands to the bulbs. Switching from one lighting option to another is as simple as tapping a smartphone app or barking a command at your favourite voice-activated personal assistant.
Not only is smart lighting efficient and easy to use, but it also uses less energy than traditional bulbs. Smart lighting saves you a little extra when it comes to your electricity bills. There are various brands which are available and can easily be integrated with Amazon Alexa, Apple HomeKit, and Google Assistant. Specialist smart lighting companies such as Lifx and Sengled can deliver voice and app-controlled lighting systems which will be suitable for any home space.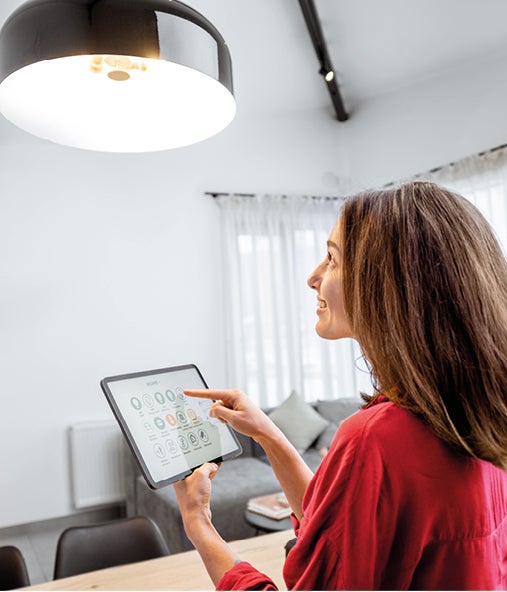 Smart Thermostats
A boon in the cold Irish Winter and a handy option during our increasingly warm Summers, smart thermostats are a great option for your heating and cooling needs. 
One of the greatest benefits of smart thermostats is the ability to control your home's heating when you're away. You have the ability to turn up the temperature so that the house can be comfortable, nice, and well-conditioned when you return home. You can also pre-set the house into different temperatures suitable for specific times of the day or week. 
Some advanced thermostats can also connect with your water. More elaborate thermostats usually require extensive work when it comes to installation, connecting to your cooling, heating, solar and water systems. 

We've partnered with Hive as our official Smart Home service provider here at Bord Gáis Energy. Hive's Active Heating feature lets you control your heating and hot water tank from your smartphone-enabled smart thermostat, making the concept of returning home to a freezing cold house a thing of the past. Hive's Smart Lights and Active Smart Plug functions mean you never have to worry about leaving the lights on, the stove on or the iron plugged in as you maintain full control of your smart light and smart plug ecosystem with the tap of your screen.
Hive is our partner of choice given the breadth of services and reliability of product offerings made available to our customers, which also include Smart Sensors and Smart Meters to further enhance convenience, efficiency and security throughout your home.
To learn more about how you can save with Hive and Bord Gáis Energy, please visit our dedicated Hive Smart Home Service Hub and jump aboard the latest offers. Plus you can get a free Hive and Amazon Echo Dot as a new customer under our exclusive new Bord Gáis Energy Bundle.
In addition to Hive, there are an increasing variety of alternative smart thermostats available in Ireland such as Netatmo, Climote and Nest (or Nest Mini) which can work with your home heating systems and smart-enabled devices. As with Hive, installing these products' smart thermostat functionality is relatively straightforward with intuitive set up and smart displays as standard.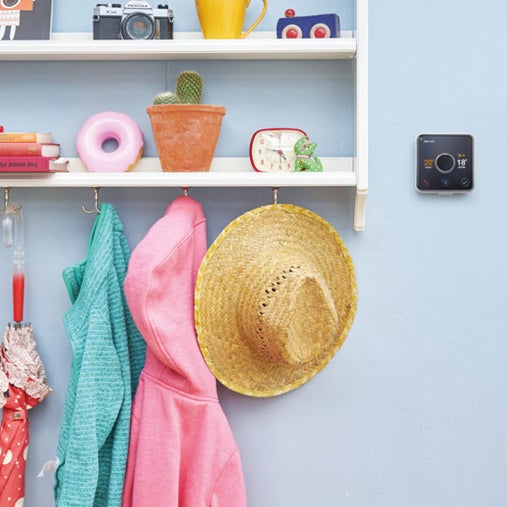 Smart Kitchen Appliances 
Of all the mainstay domestic white goods on the market, the fridge is usually the centrepiece for many Irish kitchens, and if you're interested in smartening your kitchen, there are some exceptionally smart fridges available. From smart refrigerators and ovens, to Wi-Fi enabled air fryers, household kitchen appliances have got cooler and smarter as technology advances at breakneck speed.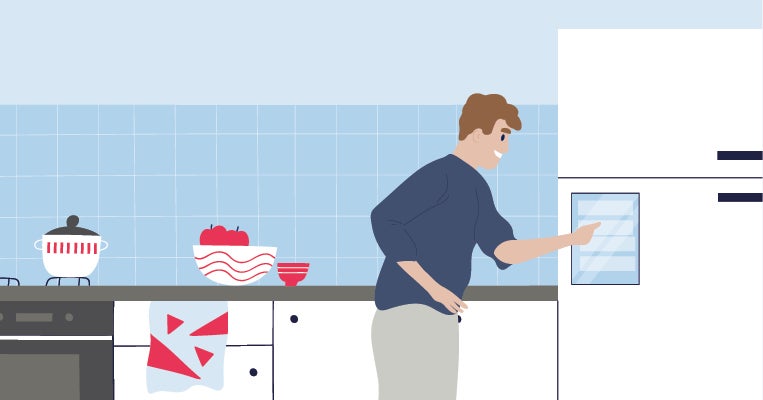 For instance, Samsung has tech-friendly refrigerators equipped with built-in tablets as well as inside cameras, which usually connect directly to your smartphone. This allows you to check whatever is in the fridge while you do shopping in the supermarket.
There are also other smart technologies available which enable you to preheat the oven or change the temperature all with just a simple touch. Some companies also have a tech-savvy, voice-controlled microwave that connects to Amazon Alexa and Google Assistant. 
Depending on your chosen model, a smart fridge can do almost everything from automating its own respective speed and temperature, as a response to demand: to coordinating and regulating a calendar with reminders for the entire family. 
On the other hand, tech-savvy home-dwellers perhaps working from home may also want a smart kettle or coffee machine which can automatically reheat at designated times or even switch off when it reaches the desired temperature.
Smart Video Doorbells and Security Cameras
Through the use of smart video doorbells, you can see the person knocking at your door from the comfort of your couch. Smart video doorbells and cameras from the likes of Ring, Nest and Hive are in high-demand because they can send alerts and live footage of your front (or back) door. The alerts are sent directly to your smartphone, which makes it so easy to view the footage immediately the alert comes in. The video doorbells are effective, affordable, and easy to use options for that added peace of mind when it comes to smart home security.
Indoor smart devices with security cameras are also available. Such devices include the smart baby monitors, which can be used to monitor the movements and welfare of the baby. In case the parents have left the baby with a carer, they can monitor the activities taking place at home via 'nanny cams' on the go using their smartphones.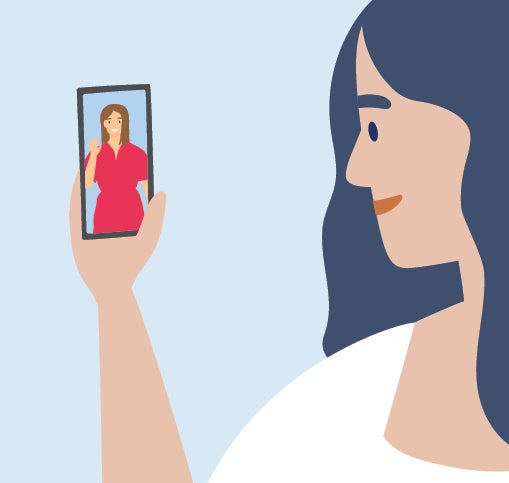 Why should you have a Smart Home?
There's a multitude of great benefits driving Irish consumers to adopt smart tech throughout their households, with the trend continuing well into 2021 and beyond. They include:
Saves Energy 
The primary reason we at Bord Gáis Energy are so firmly behind the drive for creating a smart home is the potential for our customers to save energy with automated heating and air-conditioning systems. Smart thermostats are capable of quick and precise automation of the heating and cooling process of a home.
Other smart products such as smart lights and kitchen appliances use less energy than their traditional, 'non smart' counterparts. This will, in turn, reduce your electricity bill. Thus, having a smart home saves you energy which consequently saves you some money.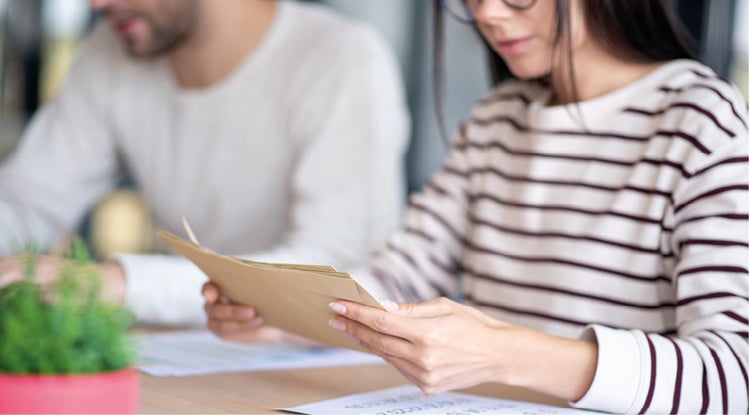 Makes Life Simpler 
Comfort is usually key for a home; if you can't chill out and relax at home, where can you? Everyone aspires towards having as many simplified processes as possible in their homes, so why not take all the help we can get to focus on spending more time doing the things we love, with the people who matter most?
A smart home offers you the ability to control most of your devices from your smartphone, saving time and energy versus traditional manual control routes. You'll also be able to use voice commands, simple schedules, location rules, and even sensor detection provisions to lighten your load.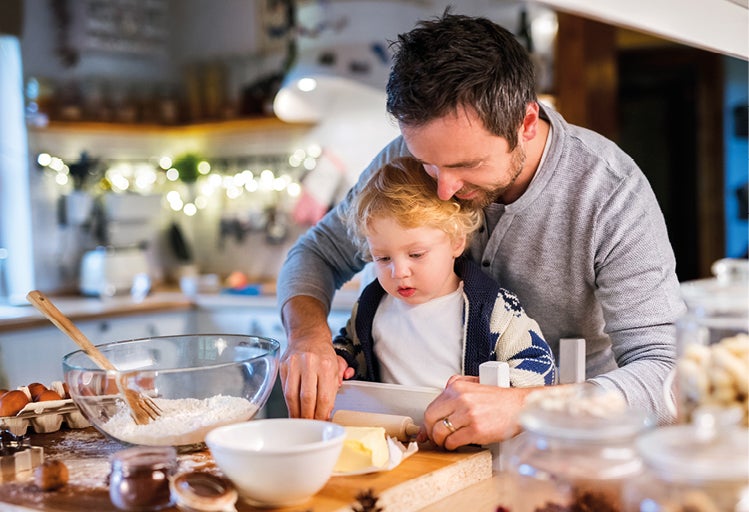 Improves Security and Safety
Smart homes offer added security to your living environment. Smart locks enable the simple remote locking and unlocking of doors and locks throughout your home, while smart video doorbells will display live footage of the person standing at your front porch, allows you to identify the person before opening the door and hence more secure than traditional wired or wireless alarms. 
Connected lights and cameras can help make a home safer. Smart home betters the security of your children since you can monitor them from your workplace via a Smartphone app. If you or a loved one is at home alone and someone is planning to break into your house, these gadgets can help you see them in advance and immediately report any intrusions to the Gardai.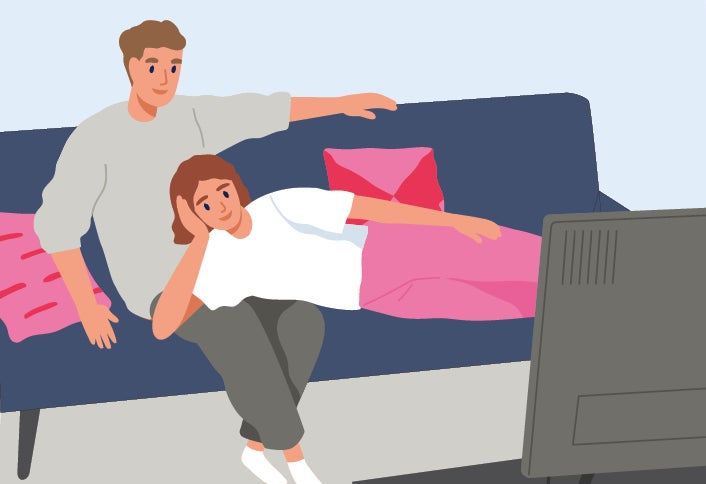 Makes Your Home More Entertaining 
Everyone wants a home where they can hang out, relax and enjoy their surroundings; and entertainment systems play an important role in the modern Irish home.
Smart speakers will help you to access any kind of music easily and conveniently. Such speakers will play music, offer news, as well as other updates such as sports scores. Smart TVs offer you the ability to watch movies directly from Netflix as well as access your social media platforms from the comfort of your living room couch.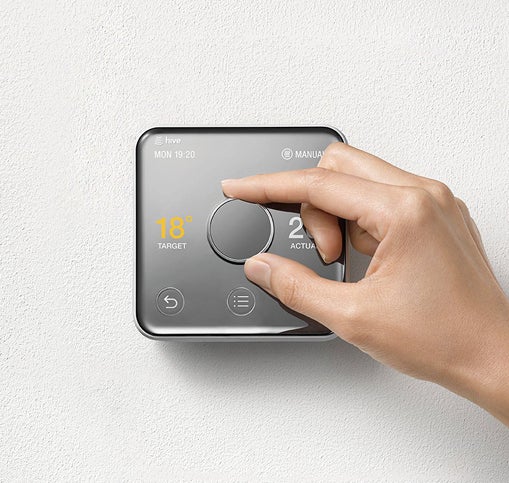 Potential Downsides of a Smart Home
Of course, where there are pros, there's always a few cons; here's some considerations to help you make a more balanced decision on whether a smart home is right for you and your family.
Perceived Complexity 
A disadvantage of smart homes is their perceived complexity. Many Irish people can understandably have problems with installing, maintaining and operating modern technology. Many folks can sometimes struggle to understand how to operate tech devices, including a smartphone, and it's a struggle we can empathise with.
Leading smart home manufacturers are constantly working to reduce complexity as well as improve the user experience for everyone across the spectrum as as the tech advances, the use of smart devices will be made more enjoyable and beneficial for all types of users.
Lack of Standard Home Automation
For home automation devices and systems to be fully effective, devices should be interoperable across different manufacturers and should entail a similar protocol or complementary protocols. Currently, there are no standard regulations for smart homes yet because the market is still quite new, with a few entrants vying for Irish smart home early adopters' attention and loyalty. 
As the realisation dawns that the future of domestic living is very much smart, more and more standard appliance manufacturers are partnering with open source platforms such as Huginn and IFTTT (If This Then That) to standardise and develop protocols that are interoperable and improves the overall user experience for the seamless integration of different devices rather than locking people into 'walled garden' hardware and software ecosystems like we've seen from some mobile and computing firms in recent years.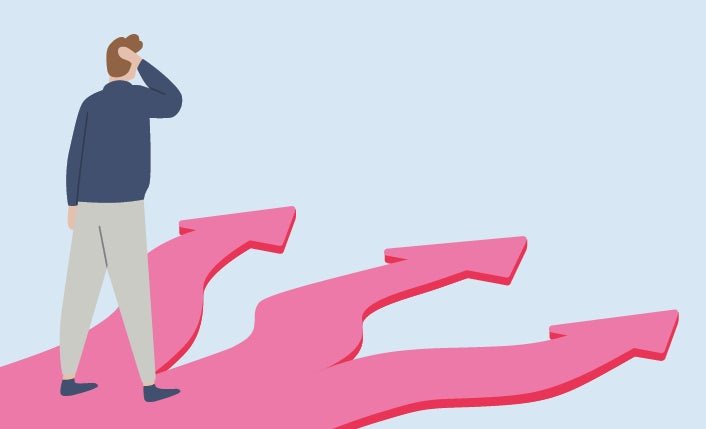 Data Security and Privacy Concerns
An increasing number of Irish consumers are concerned about the security of their smart home data, and with good cause given the stories of high-profile data breaches in recent years. People fear that hackers may be able to infiltrate a smart device and switch off alarms, unlock doors, turn off lights, and carry out other nefarious activities, but in fact, the real risk is miniscule in reality with so much at stake to big tech; smart home tech has never been safer.
Some users are also worried about their data privacy since their smart home devices might share this information. However, it should be noted that the reliable big-name manufacturers produce devices with a high level of security. While some manufacturers may collect consumer data to improve user experience and improve services, awareness is usually made in advance by the manufacturer or awareness labels are attached directly onto the smart devices themselves.
Bord Gáis Energy and Hive - Powering Smart Irish Homes of the Future
At Bord Gáis Energy, our focus is on helping home and business owners to make more sustainable energy use choices. We want to help you save energy, make life simpler, improve the security and safety of your home, and make your home more entertaining by adopting smart home solutions.
With solving the complex issue of promoting green energy in mind, Bord Gáis Energy has partnered with Smart Home product specialists Hive, a global smart device market-leading company in the smart home tech space.
Find out more about the great savings and unbeatable deals on Hive products  for Bord Gáis Energy customers.