Get the best deal on energy and start saving today
Selecting the perfect energy plan is essential to ensuring you get the best value for your money. Our tailored energy solutions cater to your specific needs and budget.
At Bord Gáis Energy, we're making energy more affordable for our new and existing customers – with savings of 17% off electricity and 15% off gas on our standard plans, and 20% off our Smart plans – combined with our recent price decrease effective 9th of November. Why switch to Bord Gáis Energy
✔ Competitive electricity prices and gas prices
✔ Easy and seamless switch to our energy supply from your current provider
✔ Exceptional customer support
✔ Our commitment to green energy and environmental sustainability in Ireland
✔ Unmissable Rewards with regular special offers for loyal customers like priority tickets for GAA finals, VIP nights at the Bord Gáis Energy Theatre and much more! How to find the cheapest electricity and gas plan
Check what price plan and discount you're on
To find out what price plan or tariff you're on, have a look at your latest bill. Most energy providers will have this information stated clearly on your bill or in your online account, along with the unit rates you pay and discounts you might be getting.
If you're already a Bord Gáis Energy customer, you can see what plan you're on in the top-right corner of your bill, underneath your account number.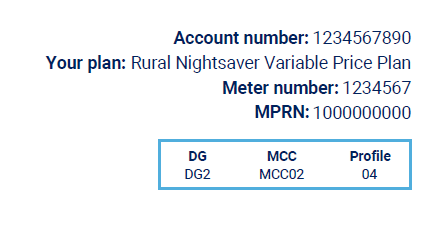 If you're availing of any discounts, you can see the description and value of your discounts on your bill, in the 'Your bill breakdown' section. If applicable, you'll also see your contract end date as well as when your current discount starts and ends. You can download your latest bill by signing in to your online account.
For a comprehensive look at our current residential electricity and gas prices including unit rates (cent per kWh), annual standing charges, discounts and estimated annual bills, see Our tariffs explained.
Switching energy providers
Switching from your current energy supplier to Bord Gáis Energy is quick and painless with the power to switch now easier than ever. And there's a good reason for making the switch: it will help you save money on your energy bills.
Once you've understood the value of your current contract, you can check out our offers to find the best deal for you. Our compare plans page will show you our full range of energy plans. 
You just have to select the plan of your choice, fill out our very simple sign-up form, and start enjoying your savings in a couple of weeks.
What you'll need to switch energy provider
➡ A recent gas or electricity bill
➡ Your meter (or smart meter) readings
➡ Bank details
➡ Complete the 4-step online form
What plans are available?
When it comes to choosing the right energy plan, it's essential to understand your options.
Depending on your home heating system, you can select a:
Single fuel plan (electricity or gas) 
Dual fuel plan (gas and electricity)
If you have a smart electricity meter, you can choose a smart plan. These Time-of-use tariffs charge lower rates at different times of the day or week, allowing you to change your usage habits to reduce your energy bills. You can decide between a single fuel or dual fuel plan for the following options:
Standard smart plan
Weekend discount plan
Free time Saturday or Sunday plan
EV smart plan
For both standard and smart plans you can choose green plan options that, depending on the type of fuel you select, guarantee up to 100% green electricity and 10% green gas from renewable sources.*
*Bord Gáis Energy guarantees that 100% of the electricity supplied to you under green price plans is sourced from renewable generation, in accordance with the Commission for Regulation of Utilities Green Source Product Verification process. 10% green gas will be purchased in Europe from Guarantee of Origin Certificates for Green Gas. (Subject to verification by the CRU under the CRU's Green Source Product Verification process). Compare electricity, gas or dual fuel plans
Start saving today with discounts of 17% off electricity and 15% off gas when you sign up to a standard electricity, gas or dual fuel plan. 
Electricity plan
Sign up for our electricity plan today to get a 17% discount, saving you up to €291* on your annual bill.
Dual fuel plan
Switch now to get 17% off electricity and 15% off gas. You'll save up to €495* on your annual bill.
Gas plan
Sign up to our standard gas plan today and you'll get 15% off. Save up to €204* on your annual bill. Our time-of-use tariffs allow you to save money by shifting your energy usage to a time when it costs less.
Unlock savings of up to 20% when you switch to one of our smart plans.
EV Smart Electricity
Charge your EV for less at night and enjoy a 20% discount on our smart electricity prices.
Standard Smart Electricity
Sign up for our standard smart electricity plan today to get a 20% discount.
Free Time Saturday Electricity
Enjoy free electricity on Saturday and a 20% discount on smart electricity.
EV Smart Dual Fuel
Charge your EV for less at night and get 20% off gas and electricity with our EV Smart Dual Fuel plan.
Standard Smart Dual Fuel
Get 20% off standard electricity and gas prices with our smart dual fuel plan.
Free Time Saturday Dual Fuel
Enjoy free electricity on a Saturday and 20% off gas and smart electricity.
Frequently asked questions about our energy offers
Do you have questions about our energy plans, switching providers, or electricity and gas prices? 
Check out our FAQs for answers to common queries.
Our current residential gas tariffs and electricity prices vary by the usage type and by the discount percentage applied to your plan.
You can view all current and upcoming energy prices, discounts and tariffs here.
Yes, through a mix of energy sources, including natural gas and electricity we offer green energy price plans that incorporate renewable energy sources.
Our green energy plans guarantee that 100% green electricity and 10% green gas have been matched from renewable sources, such as:
Electricity from wind farms, solar farms and hydroelectric power stations.
Gas made from biodegradable renewable materials and used in the same way as we use gas.
Learn more about our commitment to sustainability in Ireland.
Yes, you can switch from a standard plan to a smart energy plan. Smart plans offer more control and potential savings on your electricity and gas prices by using advanced technologies to optimise your energy usage.
However, it's not possible to revert back to a non-smart tariff or an old meter type due to industry rules for smart metering.
The switching process typically takes a few weeks, but you won't experience any service interruptions during the transition. We'll keep you informed throughout the process to ensure a seamless switch to your new energy plan.
You may be charged an exit fee of €50 if you decide to leave your contract before its end date. Please see our help section for more details.
Yes. You'll get an additional 3% discount if you use paperless billing. Our simple online billing system provides up-to-date account information and regular PDF statements which can be printed or posted if required.
There is a 14-day cooling-off period in which you can cancel your contract after signing up. After the cooling-off period, you may be charged a €50 exit fee if you wish to cancel before the contract duration has finished.