Our guide to energy efficiency
In this guide, we'll help you understand the meaning of an energy-efficient home. We'll explain different ways of upgrading your home to become more energy efficient and ideally, support you in playing your part in helping Ireland reach our ambitious sustainability targets in the years and decades ahead.
Table of contents What is energy efficiency? 
Energy efficiency is simply the act of using less energy to perform the same task; within a domestic household context, this means a concerted effort to reduce energy consumption, with energy waste of any kind eliminated from our homes. 
With a bit of forethought and planning, any Irish home - no matter what year it was built in - can be made more energy efficient to the benefit of your back pocket and the environment.
With the Programme for Government promoting zero-energy buildings and green living practices to help meet Ireland's 2030 emissions targets, modern Irish construction standards require greater energy efficiency in new builds, but older houses can also be upgraded to improve their respective energy performance. Currently, there are over half a million Irish Homes that would benefit significantly from an energy upgrade and the most recent Retrofit Pilot Scheme launched by the SEAI is targeting a minimum B2 BER Rating, more realistic for older homes.
Of course, the people living in these homes can also be more energy-efficient through their actions, activities and mindsets. There are various factors which determine whether a home is energy efficient:
An energy-efficient home should have a high energy rating. This means that a home should be properly insulated as well as airtight. It should have high-efficiency heating and cooling equipment that help to keep the utility bills low. Such a home should also be outfitted with low-flow accessories to lower water consumption and water heating costs. Those living in this home should keep the inside temperatures reasonable, manage electricity properly as well as buy energy-saving products such as LED bulbs and A-rated appliances.
All the efficient features of an energy-saving home usually work together to lower energy consumption. Moreover, such a home is environmentally friendly. The sources of energy should reduce greenhouse gas emissions and also shrink the home's carbon footprint. Greenhouse gases have been at the forefront of climate change.
Successive Irish governments, prominent business organisations, sustainably-minded citizens and community groups have been championing the use of renewable energy sources in recent years, which entail low to zero greenhouse gas emissions. Hence, an energy-efficient home should conserve the environment and it's a responsibility of those within Irish society to develop a greater sense of awareness on how our activity affects the environment.
An energy-efficient home should be comfortable and healthy at all times. This home is warm in winter, cool during the summer times and also free of drafts. The home is well-ventilated and has excellent air quality. The house is never too humid or dry at any given time. Upgrading to this kind of home can bring a lot of comfort to its residents.
Energy efficient, smart home owners ordinarily utilise a programmable thermostat to regulate their heating and cooling operations during the night and at times when they are away from home. Bord Gais Energy can help you upgrade your home to an energy-efficient one and start reaping the benefits today.
An energy-efficient home's fixtures and upgrades usually show the commitment to add resale value. Upgraded windows and doors, as well as highly efficient lighting and appliances, not only save a home's energy but also add value to it. Energy upgrades should also entail investing in renewable energy resources such as solar and wind that can pay off for years to come. Adopting the use of solar energy will save energy for a home, reduce emissions, and add significant value. The Government has committed to a Microgeneration scheme as part of  part of Ireland's Climate Action Plan stating that excess energy produced by households & businesses will be compensated with a Renewable Energy Feed In Tariff (REFIT) for every kilowatt of green energy currently sent back to the national grid.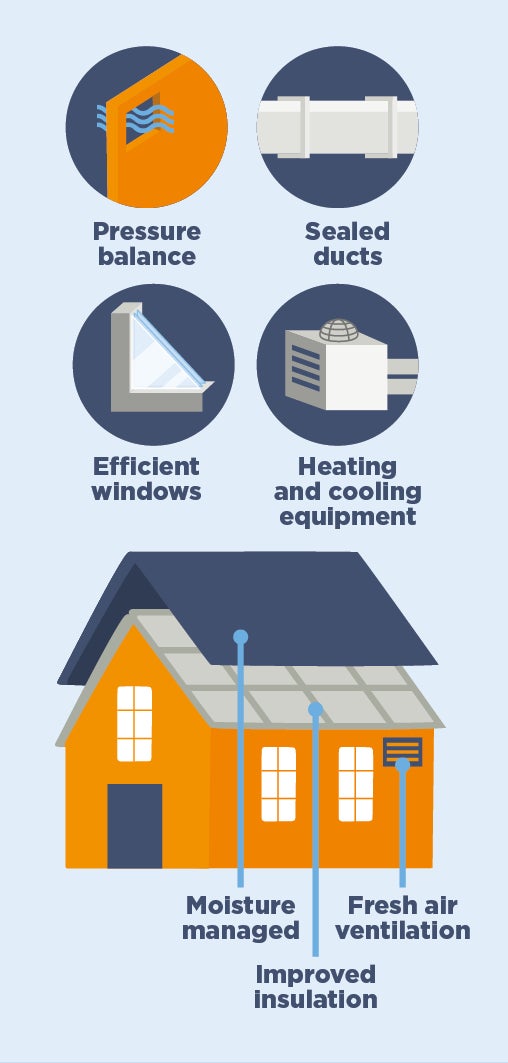 What is home insulation?
Energy-efficient homes are usually well insulated and sealed against any air leaks. Current Building Regulations and SEAI guidelines recommend a minimum of 300mm of insulation on rafters above ceilings or 150/200mm of open cell insulation spray foam between rafters. Hidden cracks, such as those in attics and crawl spaces, can allow as much airflow as an open window can. This means that such cracks cause the heating and cooling systems to work harder to maintain the desired room temperatures. This increases the utility bills for a given home due to higher energy use. 
Sealing such air leaks and adding extra insulation to the outer walls and attic can prove to be a very cost-effective way to improve energy efficiency. Thus, insulation is the act of sealing air leaks, wall cracks, attics, crawlspaces, and other open spaces that could lead to higher energy consumption
Wall Insulation 
About 35% of a home's heat is usually lost via external walls. Any extent of insulation-related heat loss can essentially be eliminated by insulating the walls so that more heat is retained within a home. There are various ways of insulating a home's walls, such as a cavity, external, and internal wall insulation. The SEAI recommend a 'Fabric First' approach for creating a more energy efficient home and offer generous grants. These forms of insulation can be used on their own or in combination with a home's existing wall construction. Your building contractor or service provider will assess the best method and discuss this with you before your upgrade begins.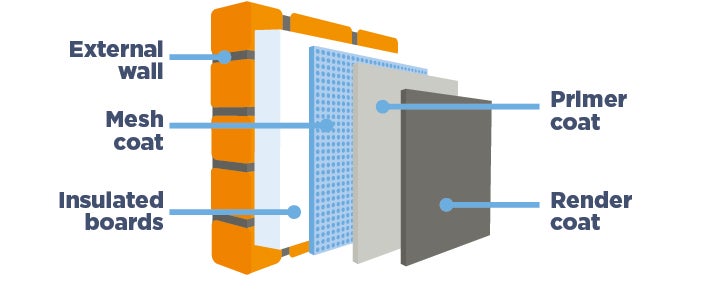 Cavity Wall Insulation 
Cavity wall insulation is an essentially easy and cost-effective first step to reduce heat loss in your home. If your home has cavity walls that are not insulated, or they are only partially insulated, it's advisable to completely insulate them. Insulation is usually pumped into the cavity to seal it.
A series of small holes are drilled in the wall, at regular intervals, on the outside of your home. The insulation is then pumped through these holes to cover the cavity. The holes are then filled in as well to match the rest of the wall. Cavity wall insulation ensures that heat is not lost through the cavities present on the walls. This is quite important when upgrading to an energy-efficient home.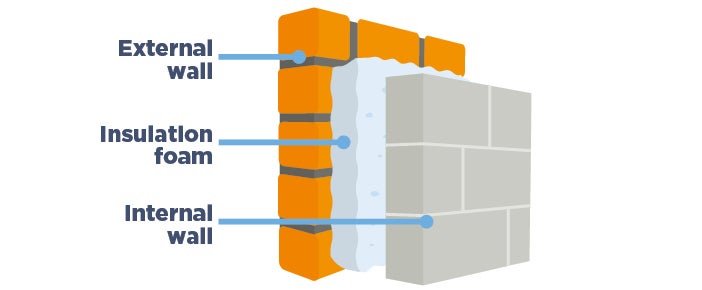 External Wall Insulation
For solid block or concrete walls that have no cavity, external wall insulation is generally the most preferred option. This option can also be used in addition to cavity wall insulation to further improve the performance of a home's external walls. External wall insulation usually involves wrapping a layer of stable and rigid insulation around your home. External wall insulation also involves fixing a rigid insulation material on the walls and embedding a mesh into it to provide extra strength. Such insulation can also be covered with a render to provide weather resistance. 
Internal Wall Insulation 
You can apply internal wall insulation when your home has solid or cavity block walls. In this case, it means that external wall insulation is either not possible or is not considered the best solution. This insulation process usually involves fixing insulation boards to the inside of the external walls and covering them with a distinct vapour control layer.
 The walls can also be covered with plasterboard, skim, and new painting to make the wall aesthetically appealing. Since boards are installed on the inside of a house, there will be a loss of space in the rooms. Internal wall insulation will help increase energy saving for your home. SEAI offers generous grants (i.e. €6,000 for a detached house) for these upgrades and you may also qualify for Energy Credits. Further details are available at seai.ie.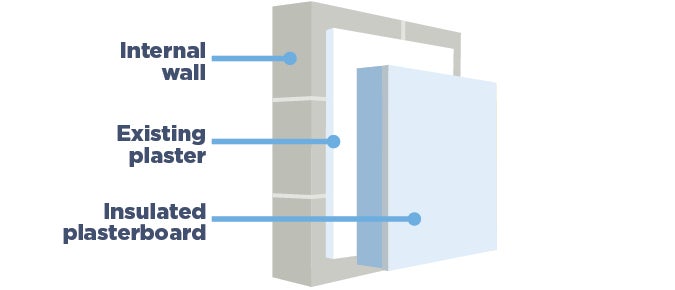 Attic Insulation 
Your home's heat can be lost through the attic. When attic spaces are insulated, heat is kept below the ceiling and it circulates inside the rooms. Proper attic insulation is the best way to prevent heat losses in the winter and retain cool air in the summer.
If your home has an attic, a thick layer of insulating material, such as a blanket material, will be rolled out between and over ceiling joists. For large roof spaces spray foam insulation can be sprayed between rafters (roof uprights) once a suitable breeder card is fitted Spray foam can deliver greatly improved airtightness. Another technique involves the use of loose-fill insulation. Loose-fill insulation is great for insulating attics with very little headroom as well as multiple obstructions, such as vents and cross-beams. Loose-fill insulation can also be blown over existing insulation and can be available in fibreglass, cellulose, and mineral wool form. 
With new attic insulation, proper ventilation is required, reducing the risk of condensation build-up in the attic space, which, if left unchecked, can harm the effectiveness of your insulation and cause damage to the roof structure. It is also important to ensure that pipes and tanks are properly lagged to prevent freezing and leaks.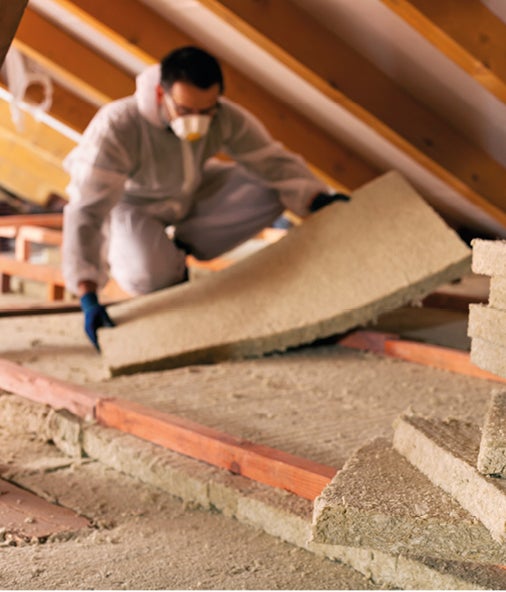 Heating and Cooling 
Normally, heating and cooling systems can be responsible for as much as half of the energy consumed in a given home. To maximise the energy efficiency of your home's heating and cooling systems, only use the system when necessary. It is good practice to change the air filters regularly and get the unit serviced as recommended by the manufacturer.
Conventional homes usually lose approximately 20% of the air that travels via the duct due to leaks and improper sealing. Regular system services can help avoid the 20% loss that takes place in conventional homes. Ducts should be sealed and insulated for increased efficiency and lower utility bills.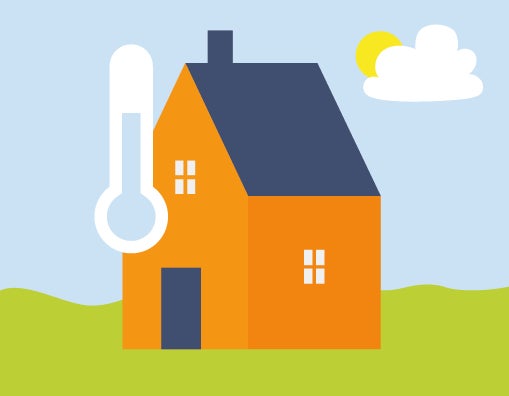 Upgrade your gas boiler
If your boiler is over 15 years old, you could be losing heat and paying higher bills than you need to. An inefficient boiler can waste up to 18% of your home's energy*. 
Bord Gáis Energy's RGII-registered gas boiler installers can install a new, more efficient boiler for you.
*Based on SEAI BER assessment data where Mains Gas Boilers are on average 76% efficient in houses built before 2002, in houses which have a BER of D or below and where there is no thermostat linked to the boiler to control room temperature. This is when compared to a new high-efficiency boiler which has up to 94% efficiency. Annual savings figure is calculated based on an average annual consumption of 11,000 kWh in gas (as defined by the CRU) and Bord Gáis Energy's standard gas price plan. Install solar panels for your home
Solar is a renewable energy source which doesn't deplete on usage. This means that solar energy can be harnessed in all areas of the world, unlike some other sources like fossil fuels.
Getting solar PV installed will substantially reduce your electricity bill. Meeting your energy needs with your own installed solar energy system will cut your energy bills. The amount saved by the system depends on its size and the energy demands of your home; the current recommendation from the SEAI is that a solar system should be sized to cover a maximum of 70% of annual electricity usage. You can also receive payment for selling any surplus energy back to the grid.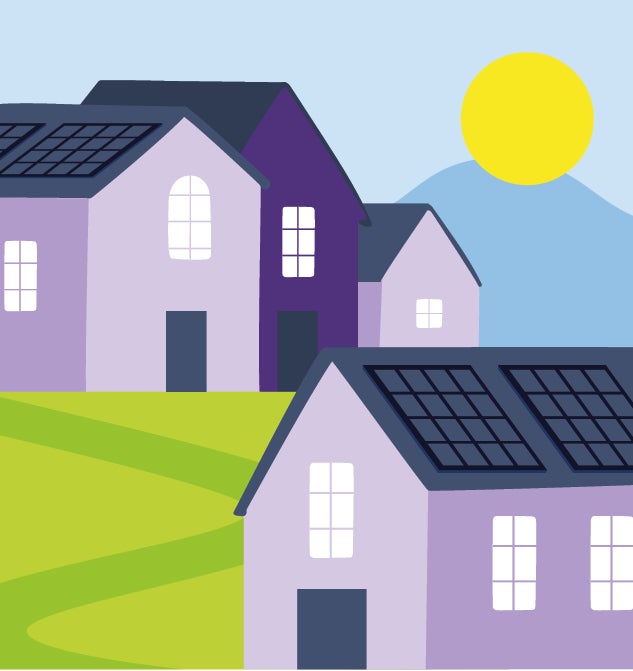 Install an EV charger
EV chargers are designed to align seamlessly with your eco-conscious lifestyle. By choosing an electric car charging solution, you're not only embracing the convenience of electric vehicles but also actively contributing to a greener tomorrow.
Get the newest Hive EV charger (EO Mini Pro 3) installed by a trusted, local tradesperson with Local Heroes. Local Heroes, a Bord Gáis Energy innovation, will connect you to a qualified EV charger installer in your area, quickly and easily. Install an energy efficient heat pump 
Heat pumps work by converting energy from the air outside of your home into useful heat inside. They are an environmentally friendly and extremely efficient alternative to conventional home heating systems.
They produce no on-site carbon emissions, unlike conventional boiler-based heaters. When paired with renewable energy sources like solar PV panels, heat pumps are completely emissions-free. This means that heat pumps are effective in reducing your home's carbon footprint.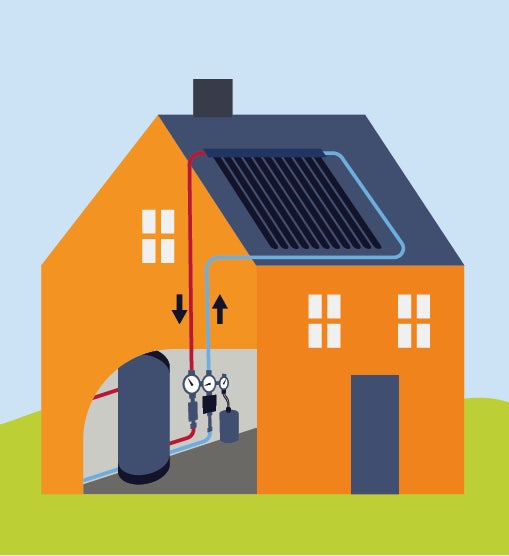 Install a programmable (or smart) thermostat
Thermostats usually monitor temperature fluctuations and communicate with the heating and cooling systems. They tell when to turn on or off the temperature system. A good thermostat like Hive (our smart thermostat of choice for the Irish market), will eliminate broad swings in room temperatures and moderate the flow of heat efficiently and reliably to your preference.
A programmable thermostat will allow you to set the desired temperatures and the heating and cooling processes will take place automatically. A high-end electronic or smart thermostat may cost more than electromechanical thermostats, but it will offer better gains in the long run. Installing a programmable thermostat will help to upgrade your home to an energy-efficient one.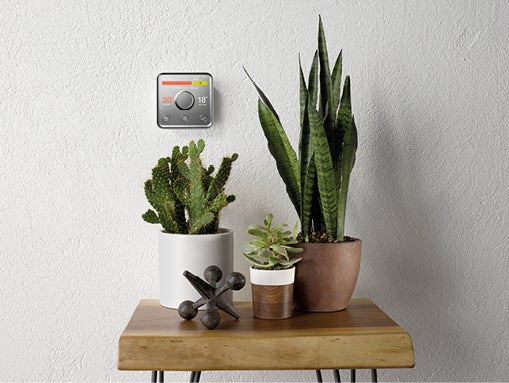 Upgrade Windows and Doors
Replacing your windows might be an expensive upfront cost, but it will result in an immediate energy saving experience as well as improved comfort. If you can't afford to acquire the best windows, consider choosing a more affordable option on the market that is not as good as the best quality available but improves your home Depending on the age and condition of your window frames you could consider a glazing only upgrades, this would entail removing existing glass and replacing it with the latest Low-emissivity (Low E) glass which has special coatings and gas filled units that are very effective for retaining heat with little or no decoration afterwards.
As a budget option, you can tape a clear plastic sheet on the inside of the window frame to diminish any present drafts.
It is also possible to install insulating window shades that can protect against cold drafts and heatwaves. If you're more concerned with heat coming into your house than going out, you can apply reflective films on the windows facing the sun. 
It is also important to consider how windows operate because some offer better air tightness than others. Awning, hopper, and casement windows usually entail low air leak rates. Fixed windows generally fall under this category but they are not very suitable for places where ventilation is a key consideration.
A significant amount of heat is usually lost due to poorly insulated core. For doors, the most efficient ones have steel frames with a foam insulation core. Steel doors are cost-effective as well as safe and greatly reduce actual consumption levels in a home.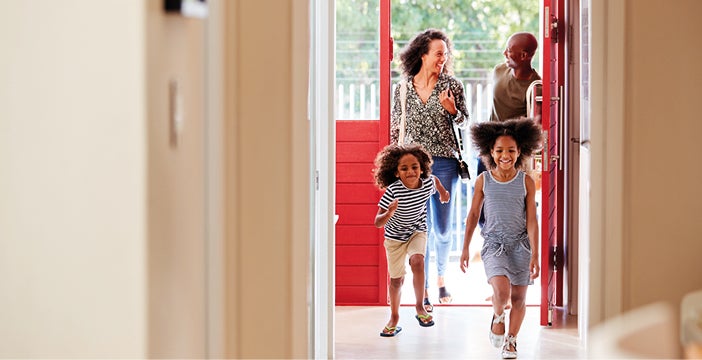 Another option would be to choose an energy-efficient fibreglass door. This means that you have to look for doors which have labels that indicate their energy efficiency status.
Sliding doors usually have higher air leakage rates even when weatherstripping methods are applied. 
Generally, hinged doors are more efficient than sliding doors, but if you happen to prefer sliding doors to protect your home from the elements, choose the ones with metal frames and a thermal break for maximum efficiency. A thermal break is a plastic insulator between the exterior and interior parts of the frame.
The Programme for Government and the Climate Action Plan set ambitious goals to reduce greenhouse gas emissions from buildings, including our homes, with targets to retrofit 500,000 homes to a Building Energy Rating (BER) of B2 and to install 400,000 heat pumps in existing buildings over the next 10 years.
These targets represent a very significant increase in both the volume and depth of retrofit activity required. A half million homes equates to almost 30% of all residential buildings in Ireland.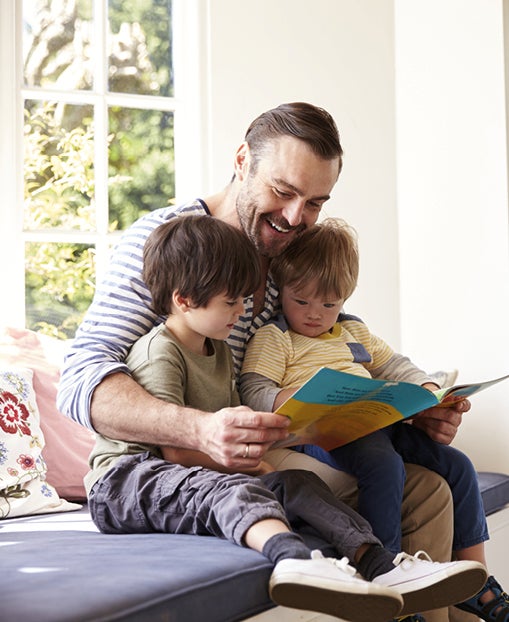 What is a BER certificate?
In Ireland, a Building Energy Rating (BER) certificate indicates your home's energy performance on a standardised national scale. A comprehensive assessment of your home's energy efficiency, the BER cert rates the energy performance of your home on a scale of A-G, with each grade consisting of separate compliance guidelines. 
Homes that are A-rated are the most efficient and will essentially tend towards having the lowest energy bills. G-rated homes are the least energy-efficient and usually have high energy bills. It's good to get a BER certificate to help you monitor the level of your home's energy efficiency.
The Sustainable Energy Authority of Ireland (SEAI) usually calculates BER via the energy use of space, hot water heating, ventilation, home appliances, and lighting. The number of people likely to occupy the building under consideration is also looked into. BER assessments are usually undertaken by SEAI registered BER assessors, a list of which can be found on seai.ie. Start your energy efficiency journey
No matter where you are on your journey to a more energy efficient future, we can help your home improve its efficiency with our wide range of energy solutions.
From transforming your heating system to improving how you power your home, our team of experts can help you start your journey today. Solar PV
We now offer solar panel installation to Irish homes nationwide. Reduce your electricity bills by generating your own renewable electricity.
Heat pumps
An energy efficient alternative to conventional home heating; having a heat pump installed can help you save money on your energy bills.
EV charger
Get the newest Hive EV charger (EO Mini Pro 3) installed by a trusted, local tradesperson with Local Heroes.