Electric Vehicle (EV) Chargers on the Irish market
Electricity continues to evolve as a low-carbon fuel of choice with the continued adoption of renewable energy resources and with transport accounting for about a third of Ireland's energy needs and energy-related carbon dioxide emissions, the electrification of transport has proven to be one of the most effective and efficient ways of reducing greenhouse gases in this country.
The use of electric vehicles (EVs) provides a sustainable transport solution that does not rely on fossil fuels, such as petrol and diesel. To meet national decarbonisation targets, the Government has continued to promote the use of electric vehicles across the country. Currently, the aim is to have about 936,000 electric vehicles in Ireland, with the sale of new fossil-powered cars ceasing by 2030.
With the increase in electric vehicles in Ireland, the main question shifts to the availability of adequate charging points to meet growing demand. An EV's battery needs to be charged for the car to drive from A to B, meaning the battery requires a source of energy all the time for the car to function, just like other cars require petrol or diesel to run.
Essentially, if the battery is fully discharged without access to a charging point, the driver will be stuck wherever they may be, highlighting the necessity of a sufficient nationwide network of readily-accessible charging points or for EV owners to install a home charging point.
This guide helps you to understand different types of electric vehicles and how they function. We cover the different types of EV chargers and how they can be installed in your home, with the option of support via Government grants for electric cars and EV chargers.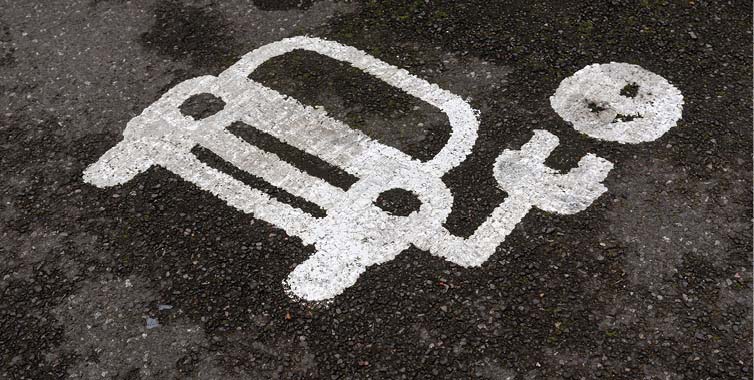 By informing you on Ireland's EV infrastructure and some of the reasons why you should consider purchasing one, we aim to help you to make the right decision when it comes to the purchase of an electric car or the installation of a charging station from qualified, SEAI-approved providers through Local Heroes.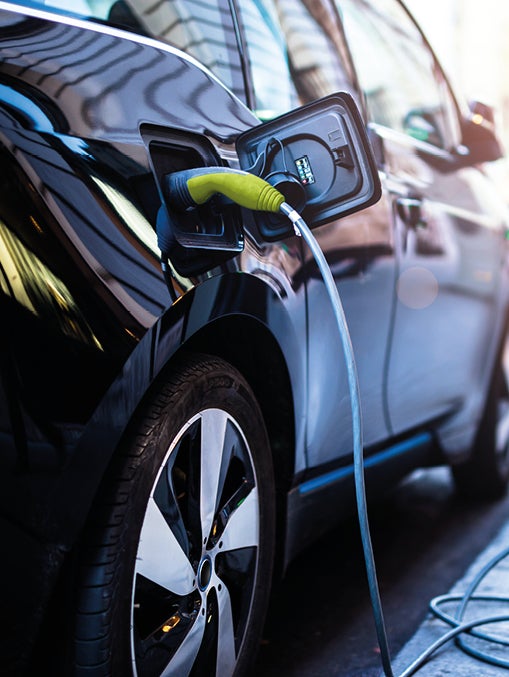 Electric vehicles can be plugged to charge from an off-board electric power source. They are therefore different from hybrid electric vehicles, which usually have a battery power output to supplement the internal combustion engine but cannot be plugged in. 
There are two main types of EVs on the Irish market. First, Battery Electric Vehicles (BEVs) which are fully-electric 'autonomous electric vehicles' (AEVs) and secondly, there are Hybrid Electric Vehicles (HEVs) and the more common plug-in hybrid electric vehicles (PHEVs).
BEVs 
As their name suggests, battery electric vehicles are fully-electric and rely solely on the use of a battery for propulsion unlike their hybrid fuel-and-electric counterpart PHEVs, which run on electricity for shorter ranges and automatically shift to petrol when the battery runs low.
2021 model BEVs have all-electric ranges of 200 to 550km, while some higher-end models such as the Tesla Model S Plaid+ can range up to 835km per the latest industry data.
When a BEV battery is empty, it can take between 1 to 8 hours to fully charge, depending on the make and model. Higher-end specs with fast chargers usually take about half an hour to restore a significant amount of energy to the battery ahead of its next journey.
PHEVs 
Modern plug-in hybrid electric vehicles run on battery-fueled electricity for shorter ranges from 40 to 90km, then switch to an internal combustion engine that runs on fossil fuel (petrol) when the battery depletes.
This option allows a PHEV owner to use electricity when possible but still use petrol in circumstances that may require so, such as longer-distance journeys or when access to a charging terminal isn't readily available.
Deciding between fully-electric BEVs and PHEVs is entirely the consumer's own decision to make, and later in this guide, we'll get into the various benefits and funding supports promoting BEVs that are offered by the Irish government in more detail.
Powering an electric vehicle with electricity from the grid has many benefits; this option reduces your overall car-running costs because grid electricity is cheap. You can cut down on (or eliminate) petrol consumption, which is expensive compared to electricity and in doing so, you can cut the emissions produced by conventional vehicles that run on fossil fuels; and play your part in protecting our environment in the process.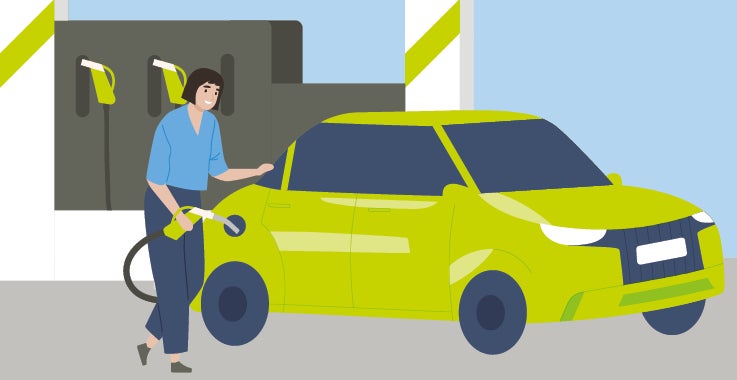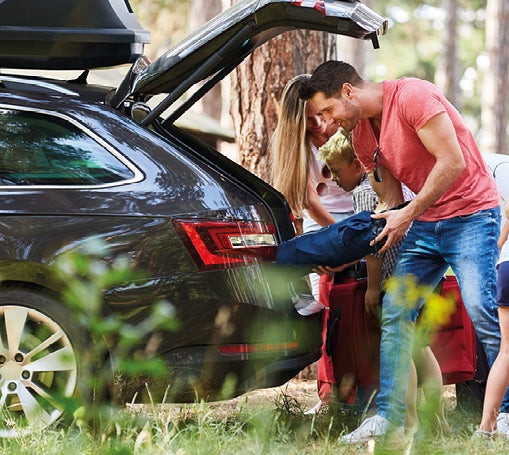 Some of the Electric Vehicles in the Irish market 
There are currently about 17,000 electric vehicles and plug-in hybrids on Irish roads, with electric cars doubling their market share in Ireland in 2020. Different electric vehicle companies are competing within the Irish market, including Ford, Volkswagen , Renault, Nissan, Tesla, Hyundai, BMW, Mitsubishi, Kia and Audi, among others. 
The table below shows some of the popular EVs in the country and their estimated numbers per the first half of 2020;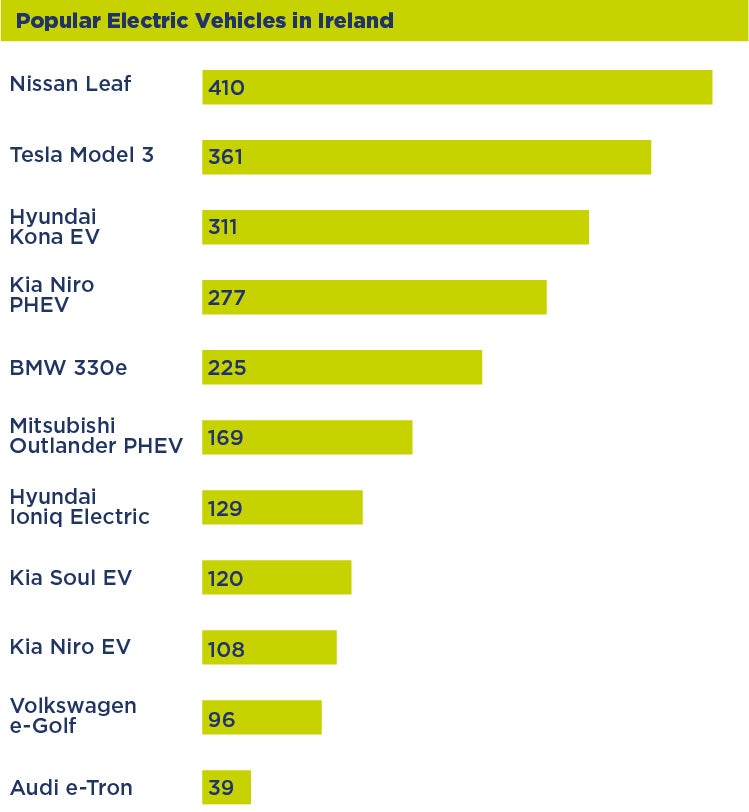 Table ref: cleantechnica.com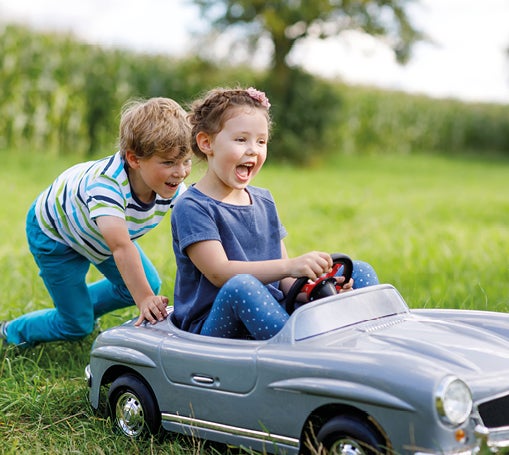 The price of an Electric Vehicle in Ireland 
The cost of electric vehicles varies from one model to another, from one brand to another, as well as based on whether it is an BEV or PHEV. With entry-level costs north of €25,000, it's a significant investment to consider and different electric vehicles have varying additional features and functionalities which affect their prices.
Such features include the capacity of a battery and the stipulated range of kilometres an EV can travel without requiring recharging. The table below shows some of the electric vehicles in the Irish market and their respective prices*;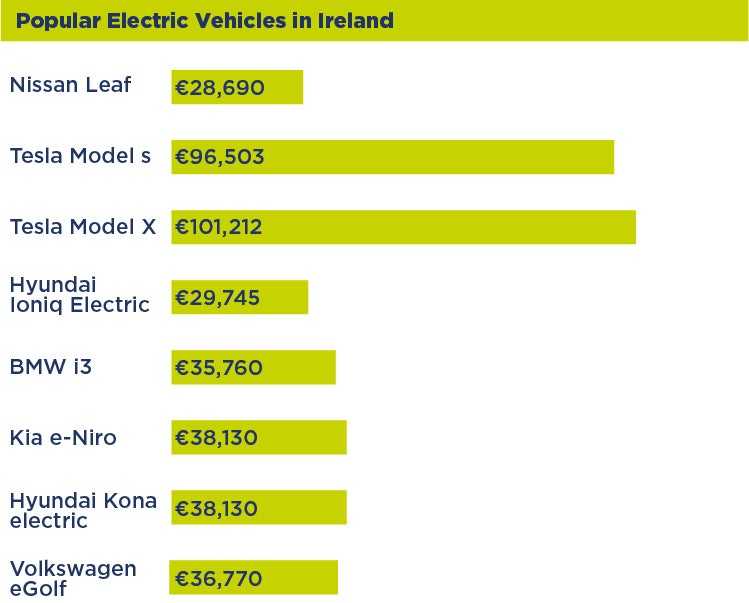 *All prices accurate as of March 2021
Your choice of an electric vehicle will ultimately depend on a couple of key factors, such as your desired use, your budget and spec required in the respective car. With grant incentives and savings to be had as market-based competition heats up, EVs are becoming more affordable than ever.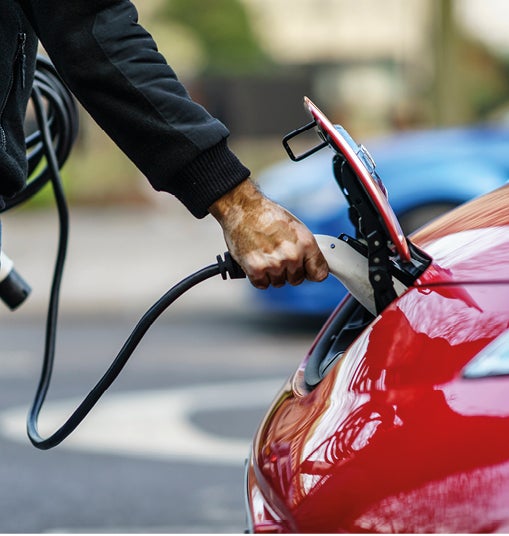 Electric Vehicle grants 
The SEAI provides financial support to help consumers make the switch to electric vehicles, offering grant support for the purchase of N1 category electric vehicles for business and public entities. This is small goods vehicles carrying vans with a technically permissible maximum mass not exceeding 3500kg.
The table below shows a number of commercially purchased N1 electric vehicles with their respective grant values*;
N1 Category 

N1 Category 

Grant Value 

Grant Value 

N1 Category 

€14,000 - €15,000

Grant Value 

€2,000

N1 Category 

€15,000 - €16,000

Grant Value 

€2,500

N1 Category 

€16,000 - €17,000

Grant Value 

€3,000

N1 Category 

€17,000 - €18,000

Grant Value 

€3,500

N1 Category 

Greater than €18,000

Grant Value 

€3,800
 *All rates accurate as of March 2021 
Electric Vehicle charging points
An EV charging point/station is an electrical machine that supplies electricity to charge electric cars and plug-in hybrid vehicles. Some electric vehicles usually contain converters onboard that can plug into a standard electrical outlet or even high-capacity appliance outlets. Other electrical vehicles use charging stations that provide electrical conversion, monitoring, and safety functionalities.
Charging stations can support faster charging at higher voltages and currents than the residential Electrical Vehicle Supply Equipment (EVSEs). There is a growing number of people switching to BEVs and PHEVs technologies in Ireland, generating an urgent need to improve the public charging infrastructure to support the increasing number of EVs. People usually charge their cars in public, home, work, and car parking charging points. 
Home EV charging 
Charging an electric vehicle at home is the most convenient option available for most electric vehicle owners. A full overnight charge can cost as low as €3 using the night rate electricity. These costs usually vary by vehicle type and your electricity supplier. The cost of charging at home is then added to your regular domestic electricity bill in the usual way. There are grant options available too, which you will find more information on below in the Government EV home charger grant section of this guide. 
Public charging points 
Vehicles usually charge in public charging points located in various locations, such as on public roads, streets, motorway service stations, shopping centres, car parks, and other public areas with chargers across Ireland. Public charging points are usually crucial for car owners when they travel long distances, where the battery is likely to drain on the way. 
It is vital that Ireland has many public charging points for the increasing number of electric vehicles. This means that drivers can easily access such charging points and have their batteries charged in order to continue with their journeys.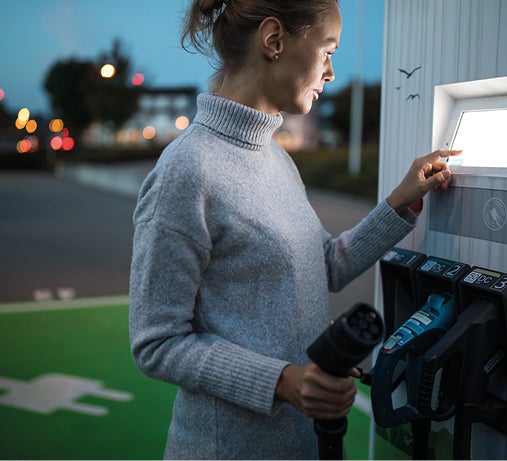 Different EV chargers in Ireland
The increase in electric cars has created job opportunities for many companies to venture into the area of installing EV charging points. These installers offer both residential as well as commercial charging points across the country.
You can use this EV Charger Locator to find your nearest charging station, or use Local Heroes to book in an EV installation, replacement or repair anywhere in Ireland.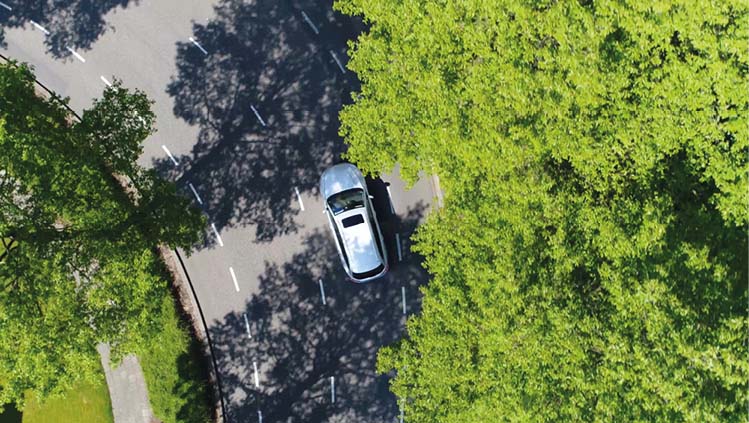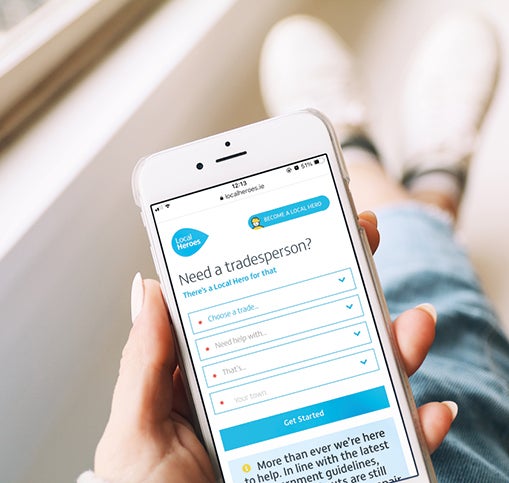 Government EV home charger grant 
To help support new EV owners, the SEAI offers an electric vehicle home charger grant for up to €600 towards the purchase and installation of a home charger. This amount usually covers about 70 per cent of the typical costs incurred during the purchase and installation of home charging points. To qualify, one must have taken the full ownership of an electric vehicle from January 2018 onwards.
How to apply for home charger grant 
The application for the grant can be made online. The applicant must have the following requirements;  
Have the Meter Point Reference Number (MPRN)
Home address and Eircode 
Bank details 
Application ID for those buying new electric cars and receiving an EV grant from SEAI. 
Choose a professional installer locally
It is very important to have a professional EV charging point installer to carry out your installation work. A professional installer should be a fully qualified electrician registered with Safe Electric Ireland. We highly recommend engaging a trusted supplier on the Local Heroes network as they meet the highest quality standards guaranteed.
Local Heroes, a Bord Gáis Energy innovation, can connect you to a vetted and trusted EV charger installer in your area.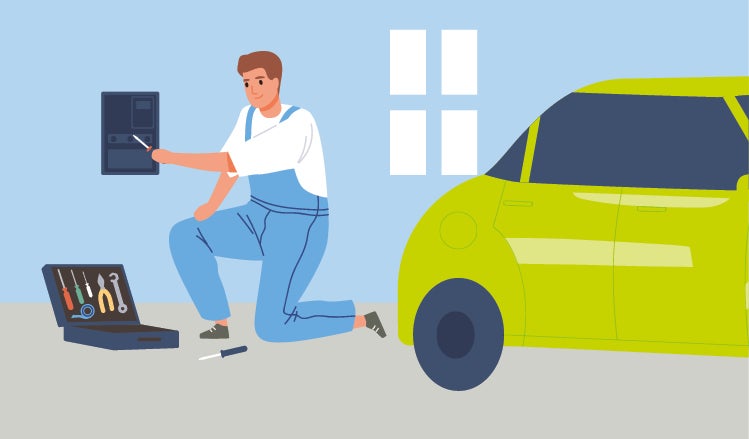 • Get an estimate straight away
• If you're happy with the quote, you'll need to pay a deposit. 
•  Pay online, no cash required. 
• All work is covered by a 12 month guarantee, backed by Bord Gáis Energy.  
• The SEAI grant scheme allows you to claim €600 back on the cost of the new installed charger.
For more information, you can contact our dedicated EV support team who will offer you professional advice and guidance concerning electric vehicles, installation of both home and business EV charging points, and other related matters. 
Bord Gáis Energy - Powering Irish EVs of the future
At Bord Gais Energy, our focus is on helping home and business owners to make more sustainable energy use choices. We want to help you save energy and money, choose efficient and effective electric vehicles, EV charging points, and make your transport more environmentally conservative by adopting carbon-free energy options and we aim to provide you with professional advice concerning electric vehicles, charging points, and how to apply for grants.
Find a Local Hero
We hope this guide has equipped you with all the information required to understand the options available on the Irish EV charger market.
If you've got a question on EV chargers or would like us to cover any other renewable energy topics or initiatives not covered in our sustainability hub, please contact us today and we'd be more than happy to assist with your request and provide you with all the information you need to make an informed decision on the best way forward for your home energy needs.
To find a SEAI-approved EV charger Installer, check out Local Heroes today.
Find a Local Hero