Bord Gáis Energy continues its support of Focus Ireland with home energy upgrade programme for vulnerable families
03 May, 2023
Bord Gáis Energy installs new state-of-the-art boilers and smart heating controls in 13 homes in Focus Ireland's Dublin-based supported family accommodation facility
Bord Gáis Energy has today announced a new initiative to support Focus Ireland by providing home energy upgrades to 13 homes in Aylward Green in Dublin. Aylward Green is a Focus Ireland supported family accommodation facility in Finglas, Dublin, and the home energy upgrades will save Focus Ireland €3,000 a year in costs.
Aylward Green is one of many Focus Ireland properties that provides much-needed accommodation for those impacted by homelessness. Launched in 2001, it was the first supported family accommodation service of its kind in Ireland. Today, Focus Ireland has 11,002 long and short-term residential units for vulnerable families and individuals across the country.
Bord Gáis Energy has partnered with Focus Ireland since 2015 and has committed €4.6m to the charity to help end family homelessness. Today's announcement forms part of Bord Gáis Energy's continued partnership with Focus Ireland, and its ongoing commitment to supporting customers to transition to a lower carbon future.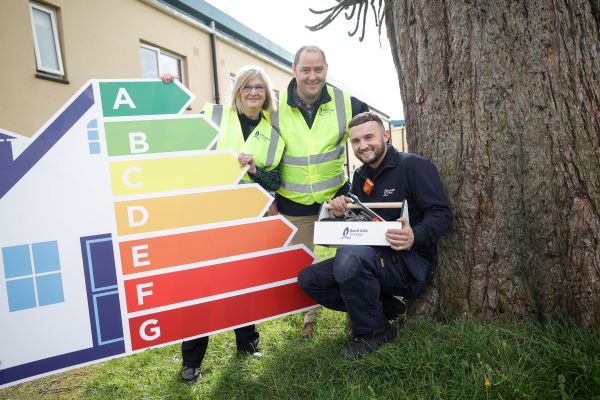 Pictured are L-R Elaine Fleming, Aylward Green Manager, Focus Ireland, Derek Davis, Head of Field Development, Bord Gáis Energy and Gavin Foran, Service Engineer, Bord Gáis Energy.
To date, the partnership has supported over 7,000 families (12,000 adults and children) and has directly prevented 458 vulnerable families from becoming homeless. Last year the partnership was extended until 2027.
As part of the home energy upgrade programme, Bord Gáis Energy is replacing the old heating systems in all houses in the facility with new, more energy-efficient boilers and smart heating controls which will reduce energy consumption in the home and ultimately lower energy bills. 
Commenting on the new initiative, Derek Davis, Head of Field Development - Services & Solutions, Bord Gáis Energy said: "As a long-standing supporter of Focus Ireland, we're delighted to provide home energy upgrades to 13 homes at Aylward Green, saving Focus Ireland €3,000 in costs a year. We're proud to be Ireland's leading home energy management and services provider which means we have the products and the expertise to deliver this project across two weeks.
At Bord Gáis Energy, we're on a journey to becoming a net zero business by 2045 and helping the wider community transition to a lower carbon future too. To do this, we've switched our focus from being a classic utility supplier to providing our customers with affordable energy management services that will enable them to be more energy efficient at home and live more sustainably. We believe that the transition to low carbon future should be for everyone, and we're determined that no part of society is left behind.  That's why projects like these are critical."
Elaine Fleming, Aylward Green Manager, Focus Ireland said: "Family homelessness has always been central to our work at Focus Ireland, and we try to prevent families from becoming homeless in the first place, but if that proves impossible, we then try to assist them into new stable homes as quickly as possible. We have operated temporary accommodation for families with high support needs such as Aylward Green for over 20 years. It's important to us that these accommodation facilities are well maintained and that these families in need are cared for on a continuous basis. The support of Bord Gáis Energy in this project as well so many other initiatives is invaluable to us and greatly appreciated by all"