When is it a good time to submit a meter reading?
Within ten days before your next bill issue date is a good time to submit a read. If the read is submitted during this time and is accepted by ESB Networks and/or Gas Networks Ireland, it will be used on your next bill. You can still submit a read outside of this window however this may not be used on your next bill. However, every meter reading helps make your future bills more accurate.
To check your next bill issue date, sign-in to your online account and select the account you wish to view. On your accounts page, you will see three tiles. The middle tile confirms a date range of when you should expect your next bill to issue.
In the example image below, this customer expects to have their next bill issue between 13 October 2021 and 2 November 2021. A good time for this customer to submit their reading would be between 2 October 2021 and 12 October 2021.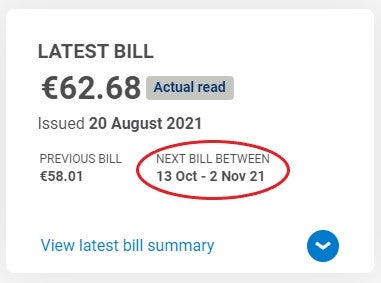 If you do not have an online account, you can register in just a few quick steps.
Please note: The figures shown in the image above are for illustrative purposes only.