Why is my 'Next Bill Between' date showing in the future and I have not yet received this month's bill?
Don't worry - this is common if we're waiting for a meter read from Gas Networks Ireland or ESB Networks. Your account has entered a billing cycle and it may take up to ten days for your bill to issue. If you don't receive your bill within ten days, please get in touch with us.
Unsure of where to locate this information on your online account? Simply sign in, select your account (gas or electricity) and you'll be brought to your account summary page. You'll find your 'Next Bill Between' dates referenced in the middle tile at the top of the screen.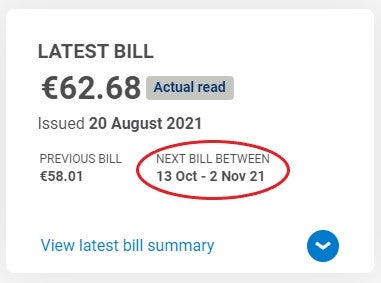 If you don't have an online account, you can register in just a few quick steps. 
Please note: the figures shown in the image above are for illustrative purposes only.