Bord Gáis Energy sponsor the GAA Hurling All-Ireland Senior Championship Key Highlights
19 January, 2017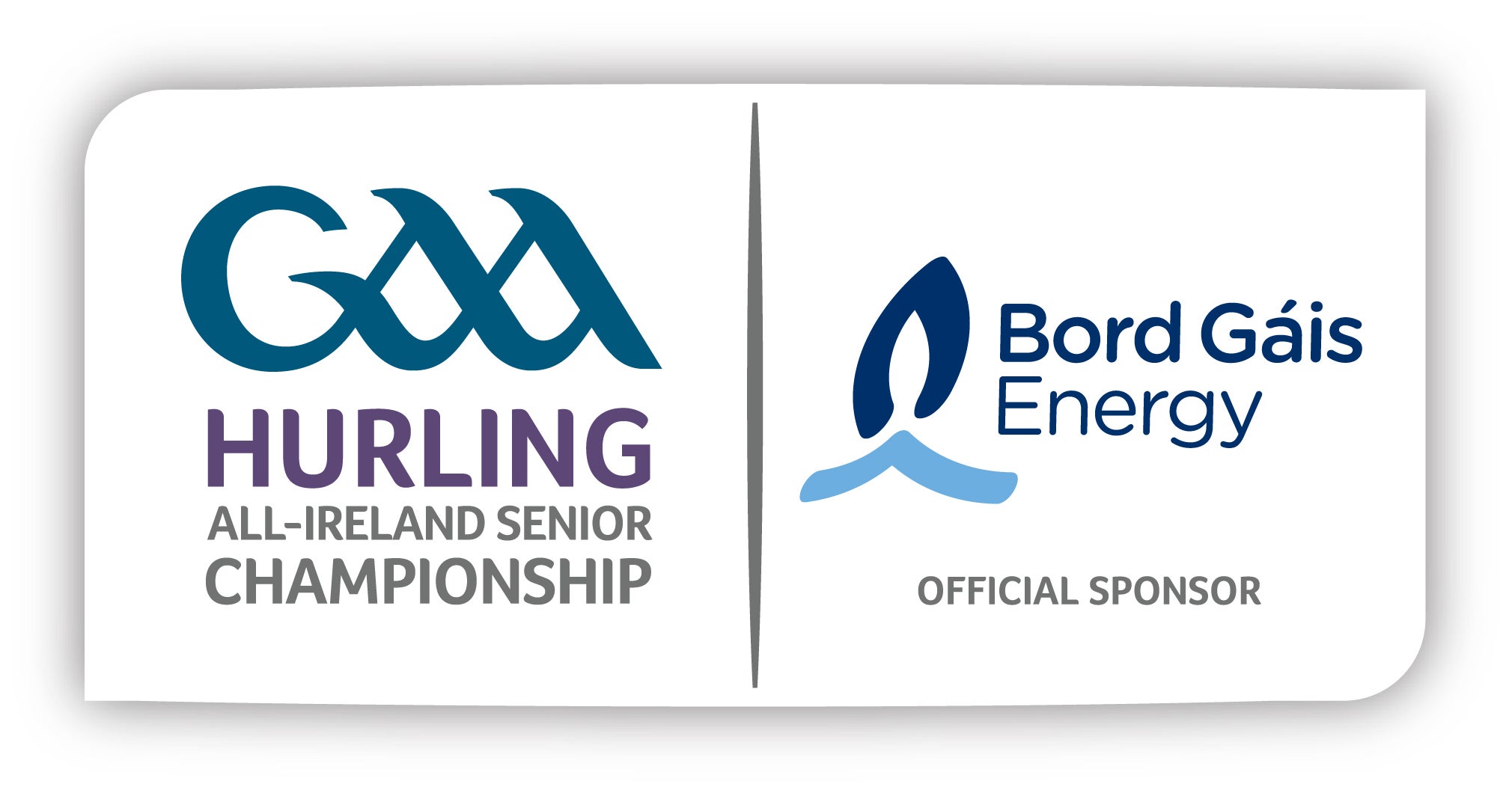 Bord Gáis Energy to sponsor the GAA Hurling All-Ireland Senior Championship Key Highlights
Bord Gáis Energy sign a three year deal with the GAA for senior sponsorship and will also continue sponsorship of U-21 Championship and GAA Legends Tour series
Bord Gáis Energy will expand its range of exclusive offers to Bord Gáis Energy Rewards Club customers through the sponsorship
Bord Gáis Energy also becomes the Official Energy Partner to the GAA
Bord Gáis Energy is delighted to announce that it is a new official sponsor of the GAA Hurling All-Ireland Senior Championship for the next three years. The sponsorship expands the company's long standing association with the GAA as they also continue to sponsor the Bord Gáis Energy GAA Hurling U-21 All-Ireland Championship and the Bord Gáis Energy GAA Legends Tours at Croke Park.
The new sponsorship allows Bord Gáis Energy to develop even more great GAA rewards for customers all over the country who are members of the Bord Gáis Energy Rewards Club. This will include direct access to tickets for Senior Hurling Championship matches.
The Bord Gáis Energy Rewards Club was established in 2012 as a way to reward customer loyalty and is open to all gas or electricity customers. It has grown to just under 250,000 members who can avail of a wide range of exclusive offers including pre-sale tickets and VIP experiences to the Bord Gáis Energy Theatre, competitions and money saving incentives through a partnership with Tesco.
Current GAA rewards, which are offered around the U-21 Championship and Legends series, are amongst the most popular in the Rewards Club. Through this partnership, Bord Gáis Energy customers will now be able to get direct access to tickets for Senior Championship matches, as well as unique experiences and competitions. Further details will be announced ahead of the Championship launch in May.
As part of the new sponsorship Bord Gáis Energy will also take on the role of Official Energy Partner to the GAA. In this role, we will bring the expertise and innovation of the energy sector to life in Croke Park. We will work alongside the GAA over the next three years to develop an energy efficiency strategy. This will include the introduction of smart energy controls and data metering within Croke Park and future GAA developments.
Uachtarán Chumann Lúthchleas Gael Aogán Ó Fearghail was joined by Bord Gáis Energy Managing Director Dave Kirwan at Croke Park to make today's announcement. Emphasising Bord Gáis Energy's heritage as a hurling sponsor, five of the original Bord Gáis Energy Ambassadors for the U-21 Championship were also in attendance.
Galway's Joe Canning, Tipperary's Seamus Callanan, Dublin's Liam Rushe, Cork's Patrick Horgan and Kilkenny's Paul Murphy were at GAA Headquarters in 2009 when Bord Gáis Energy took over the title sponsorship of the U-21 Championship. Today they returned as Bord Gáis Energy made the step up to become a top tier GAA partner.
Speaking at the announcement Dave Kirwan said; "This is a very proud day for everyone at Bord Gáis Energy and I would like to express my sincere thanks to all at the GAA and on the Bord Gáis Energy team who made today's announcement possible. It really is a landmark day for our company.
"There are two key components to this sponsorship; hurling and our customers. We will work hard to continue to shine a spotlight on hurling over the course of the next three years while also being able to reward our customers with exclusive offers and match access like never before.
"This work will go hand in hand with our sponsorship of the U-21 Championship and the Legends Tour series and we're very excited about having that link to hurling at all stages in the life-cycle of players. From U-21 to Senior to Legends, Bord Gáis Energy is there every step of the way."
GAA President Aogán Ó Fearghaill added; "Bord Gáis Energy have been a loyal and committed sponsor to the GAA for many years and we now welcome them on board as a sponsor of our showpiece hurling competition, the GAA Hurling All-Ireland Senior Championship. We hope to further build on what is already an excellent partnership over the coming years.
"We've seen the transformative effect Bord Gáis Energy has had as sponsor of the U-21 Championship. From attendances at games to live television coverage, from all they do on match-day to add to the supporters' experience to the introduction of the Team of the Year, we have seen fresh ideas, innovation and dedication and we're excited about now seeing how that will transfer to the senior grade.
"Looking at the calibre of players we have here and the fact they have taken time out to support today's event shows the relationships and goodwill Bord Gáis Energy have built up over the years among players and fans alike. We will do all we can to help them now as they join our team of senior sponsors."
Joe Canning is one of those players to have a long-term relationship with Bord Gáis Energy. He was among the original team of ambassadors for the U-21 Championship and has since gone on to be a judge for the Team of the Year.
Speaking today Joe said; "I've seen first-hand how committed Bord Gáis Energy are to hurling and the players. They put the players at the heart of everything they do and have been a great help to me during my playing career.
"They also have great knowledge of the game that comes with the experience of being a sponsor at the U-21 grade. It will be great to see how they bring that understanding to bear on the Senior Championship."
Bord Gáis Energy will be announcing their plans for activity around the Senior Championship later in the year. An exciting, expanded range of Rewards Club offers for customers will also be announced to coincide with that launch.