2018 Bord Gáis Energy GAA Hurling U20 All-Ireland Final
23 August, 2019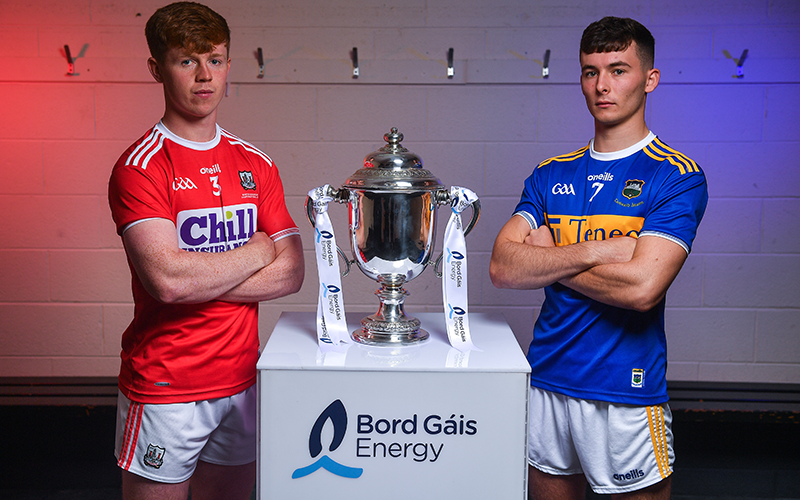 Tipperary and Cork to contest the first Bord Gáis Energy GAA Hurling U20 All-Ireland Final
All-Munster affair sets up repeat of 2018 Final pairing
James Keating (Cork Captain), Craig Morgan (Tipperary Captain), Denis Ring (Cork Manager) and Liam Cahill (Tipperary Manager) today attended the preview of this Saturday's Bord Gáis Energy GAA Hurling U-20 All-Ireland Final, which marks the first ever final at the U-20 grade and a repeat of the 2018 final (U-21), which saw Tipperary claim the title.
The pairing also sees this year's Munster finalists renew acquaintances in what will be the competition's second ever All-Ireland final meeting of two counties from the same province. Last year's final was the first all-Munster final, which Tipperary won on a score-line of 3-13 to 1-16 after a dramatic finish.
The Premier County also edged the young Rebels by a single point in last month's Munster decider after Tipp's Jake Morris struck an injury time goal to put Tipperary's name on the cup. The finest of margins shows there isn't much to separate these two rivals ahead of what promises to be an exciting and very close final. The LIT Gaelic Grounds in Limerick will play host to the game on Saturday, August 24th with throw-in at 6pm. The final will be televised live on TG4.
To celebrate this season's finale, Bord Gáis Energy will be providing fans from both counties with the ultimate matchday experience at the Bord Gáis Energy Fanzone outside the Gaelic Grounds before throw-in. The Bord Gáis Energy Fanzone will feature an innovative 360-degree photobooth where fans can get their picture with surprise guests, while a series of games and challenges will ensure the whole family can join in the fun and enjoy the pre-match atmosphere.
Uachtarán Chumann Lúthchleas Gael, John Horan said: "The inter-county hurling season will come to a climax on Saturday when Tipperary aim to add the U20 title to the senior honours they captured last weekend.
"These two teams produced a dramatic finale last year and there is no reason why we won't be treated to more of the same in Limerick.
"I'd like to acknowledge the players and those who prepare them and also thank Bord Gáis Energy for their commitment to the GAA and to hurling specifically, which can be seen around their ongoing promotion of this important competition."
Bord Gáis Energy Retail Director, Colin Bebbington said: "Bord Gáis Energy has a long and proud association with the GAA and particularly hurling.  Now in our eleventh year as title sponsor of the Bord Gáis Energy GAA U-20 Hurling All-Ireland Championship, we're delighted to have seen this Championship grow from strength-to-strength and are extremely proud to have played a part in its continued success.
Over the past decade, our partnership with the GAA has enabled us to make a positive difference in communities right across the country. Our customers love Gaelic Games and Hurling and through initiatives like the Bord Gáis Energy Rewards Club, we can put our customers at the core of the action whether that's through presenting Man of the Match awards or welcoming the players to the pitch as flag bearers.
This weekend we will be celebrating the finale of another fantastic Hurling season by hosting a special Bord Gáis Energy Fanzone at the Gaelic Grounds so I would encourage match-goers to come along and enjoy the atmosphere before throw-in."
Fans can visit instagram.com/bgegaa for news, behind-the-scenes content, competitions and match-day build up. Follow #HurlingToTheCore for more.
Hurling GIF Library
Bord Gáis Energy has created the first ever dedicated Hurling GIF and Sticker Library.
Hurling fans can access over 180 GIFs and stickers to use on social media posts around the upcoming provincial finals. The Bord Gáis Energy Hurling Gif library includes player reaction stickers, county stickers, match clip GIFs and some of the most common phrases you tend to hear at GAA grounds over the summer.
For easy access, GIFs and Stickers are available in county specific folders:
Tipperary - giphy.com/stories/tipperary-f68261df-b1af
Cork - giphy.com/stories/cork-c97f429e-d753
ENDS
Tipperary's Path to the Final
Bord Gáis Energy GAA Hurling U-20 Munster Championship
Semi Final – Tipperary (3-23) Waterford (0-10)
Final – Tipperary (3-15) Cork (2-17)
Bord Gáis Energy GAA Hurling U-20 All-Ireland Championship
Semi-Final – Tipperary (8-16) Wexford (1-15)
Cork's Path to the Final
Bord Gáis Energy GAA Hurling U-20 Munster Championship
Semi Final – Cork (0-24) Clare (0-15)
Final – Cork (2-17) Tipperary (3-15)
Bord Gáis Energy GAA Hurling U-20 All-Ireland Championship
Semi-Final – Cork (1-16) Kilkenny (0-13)
Bord Gáis Energy GAA Hurling U-20* All-Ireland Championship Roll of Honour
2018 - Tipperary
2017 – Limerick
2016 – Waterford
2015 – Limerick
2014 – Clare
2013 – Clare
2012 – Clare
2011 – Galway
2010 – Tipperary
2009 – Clare
2008 – Kilkenny
2007 – Galway
2006 – Kilkenny
2005 – Galway
2004 – Kilkenny
2003 – Kilkenny
2002 – Limerick
2001 – Limerick
2000 – Limerick
1999 – Kilkenny
1998 – Cork
1997 – Cork
1996 – Galway
1995 – Tipperary
1994 – Kilkenny
1993 – Galway
1992 – Waterford
1991 – Galway
1990 – Kilkenny
1989 – Tipperary
1988 – Cork
1987 – Limerick
1986 – Galway
1985 – Tipperary
1984 – Kilkenny
1983 – Galway
1982 – Cork
1981 – Tipperary
1980 – Tipperary
1979 – Tipperary
1978 – Galway
1977 – Kilkenny
1976 – Cork
1975 – Kilkenny
1974 – Kilkenny
1973 – Cork
1972 – Galway
1971 – Cork
1970 – Cork
1969 – Cork
1968 – Cork
1967 – Tipperary
1966 – Cork
1965 – Wexford
1964 – Tipperary
*From 2019 onwards the competition grade moves to U-20 from U-21.
For More Information:
Niall Leyden / niall.leyden@teneo.com / 0877184508
Kieran McSweeney / Kieran.mcsweeney@teneo.com / 0876132026