Introducing Bord Gais Energy's 'Imagine a Better Way for your Home'' virtual event.
21 June, 2021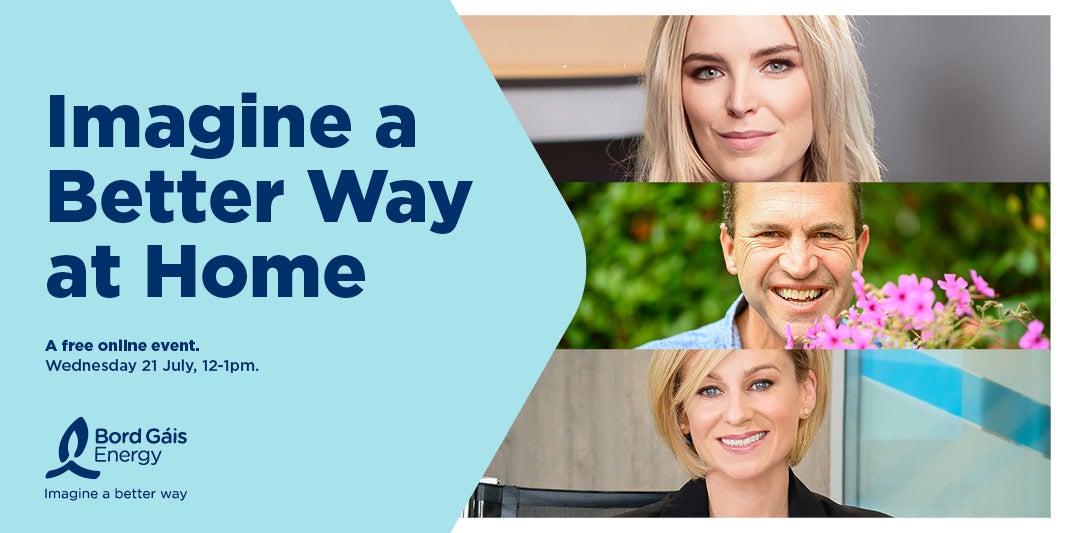 We've teamed up with a panel of well-known home experts - TV gardener Peter Dowdall, internationally renowned interior designer Suzie McAdam and former resident quantity surveyor on RTÉ's Room to Improve, award winning Lisa O'Brien to inspire householders and help them imagine a better way for their homes and gardens. The event will be hosted by Darren Kennedy.
Join us on Wednesday 21 July from 12pm – 1pm to hear our experts share their top tips and expert advice on how to get the most out of your redesigns and renovation projects, whether you're redoing your garden or trying to make your home more sustainable.
Peter Dowdall
Peter is a recognisable face in the gardening space presenting on RTÉ and TV3 television and on radio in Ireland as well as a columnist for the Irish Examiner and The Irish Garden magazine. Peter believes that the garden offers us the solutions to nearly all of our modern-day problems from Mental Health, Physical Health and climate change.
Suzie McAdam
Suzie graduated with a BA in Interior Design from DIT in 2010. She was named Interior Designer of the Year by Image Interiors in 2019, after completion of some of the most significant projects in her career. Unswayed by the passing dictates of design trends, she draws on her love of antiques, colour, vintage furniture, photography and her latest discoveries to deliver an eclectic richness to each interior space she designs. Suzie was a judge this year on RTE's Home of the Year.
Lisa O'Brien
Lisa O'Brien founded O'Brien Quantity Surveyors in 2006 providing a professional and personal service to both private clients and contractors. Lisa has a solid background in construction graduating from Bolton Street DIT with a BSc in Construction Economics (Quantity Surveying). Having gained notoriety as a star of Room to Improve, Lisa left to start a new construction company, Brifin Homes Ltd, having established a secure foundation for the startup, she has now returned to the QS practice full time.
Darren Kennedy
TV presenter, entrepreneur and style columnist Darren Kennedy is regarded as one of the UK and Ireland's most stylish men and key opinion leaders. Darren has hosted TV shows on BBC, Channel 5, ITV and the Irish National Broadcaster RTE, as well as in the US having hosted live segments on FOX, ABC, Oxygen, the CW Network and E! UK to a combined audience of over 160 million and is an avid home and decor enthusiast.
The event is free and to secure your place, simply register at http://www.imagineabetterway.eventbrite.ie/