Save €150 off a new boiler by availing of the Local Heroes boiler scrappage scheme today
01 April, 2022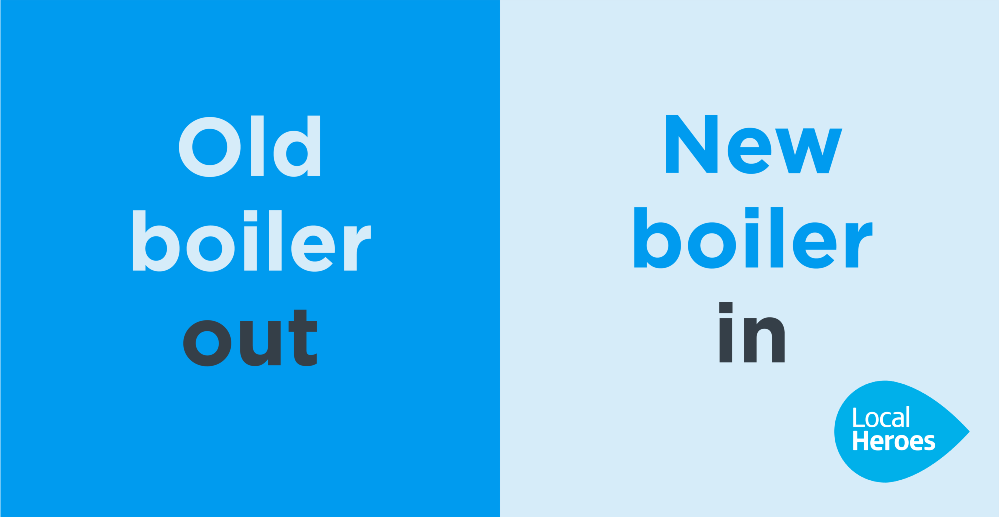 Save €150 off a new boiler by availing of the Local Heroes boiler scrappage scheme today
An inefficient older boiler can waste up to 18% of your energy everyday1
Replace an old boiler by availing of the Local Heroes boiler scrappage scheme and get €150 off a new boiler today3
Monday is the day in the week that a boiler is most likely to breakdown
Spring cleaning season is in full swing and now is the ideal time to check your boiler is running efficiently.
Homes with older boilers can waste up to 18% of energy1 every day so if a boiler is over 10-15 years old2 or isn't working properly, not only will changing an old boiler to one that is more energy efficient reduce energy usage, but it will also save money in the long run.
Bord Gáis Energy is currently running a boiler scrappage scheme through its Local Heroes programme. Join the Local Heroes boiler scrappage scheme today at Localheroes.ie and receive €150 off a new more efficient boiler3.
Manic Mondays
When it comes to boiler breakdowns, Monday is the day a boiler is most likely to go on the blink with the most callouts recorded on that day each week. On average, Bord Gáis Energy carries out 18,288 boiler repairs each year ensuring that customers have hot water and heat.
Booking a local hero
Booking a boiler replacement with Local Heroes could not be easier or more stress-free. Local Heroes is an online platform that connects the public with trusted local tradespeople.
All tradespeople are fully accredited, insured and approved by Bord Gáis Energy, and those in need of a local hero do not need to be an existing customer to avail of the service. Gas boiler installations booked through localheroes.ie come with a 10-year warranty4.
A boiler TLC
For those who do not have an old boiler, servicing it regularly reduces the risk of an unexpected breakdown. While boiler servicing is a must have for homeowners, some counties are more conscientious than others. Cork tops the poll of homeowners who regularly book a boiler service followed by Dublin, Kildare, and Limerick.
The Bord Gáis Energy boiler service team has over 35 years of expertise, spending a whopping 60,000 hours a year servicing the nation's boilers which equates to an average of 47,492 boilers each year. Bord Gáis Energy has a variety of boiler care plans, ranging from a standalone boiler service to a comprehensive 365 Boiler Care package offering a boiler service, priority breakdown assistance every day of the year and 12-month cover for labour and parts.
To book a boiler service visit our services page. To find out more about boiler installation or avail of the Boiler Scrappage Scheme visit www.localheroes.ie/boilerscrappage
1 Based on SEAI BER assessment data where Mains Gas Boilers are on average 76% efficient in houses built before 2002, in houses which have a BER of D or below and where there is no thermostat linked to the boiler to control room temperature. This is when compared to a new high-efficiency boiler which has up to 94% efficiency. Annual savings figure is calculated based on an average annual consumption of 11,000 kWh in gas (as defined by the CRU) and Bord Gáis Energy's standard gas price plan.
2 www.localheroes.ie/boilerscrappage
3 €150 discount is available for new boiler installs booked online and installed before the 1st October, subject to availability. For full T&CS, visit LocalHeroes.ie
4Terms and Conditions apply, see http://www.localheroes.ie for further information.