Joe Canning and Gearóid Hegarty team up with Bord Gáis Energy to launch 'It's Anyone's Game'
17 April, 2023
New campaign aims to celebrate and support inclusivity in hurling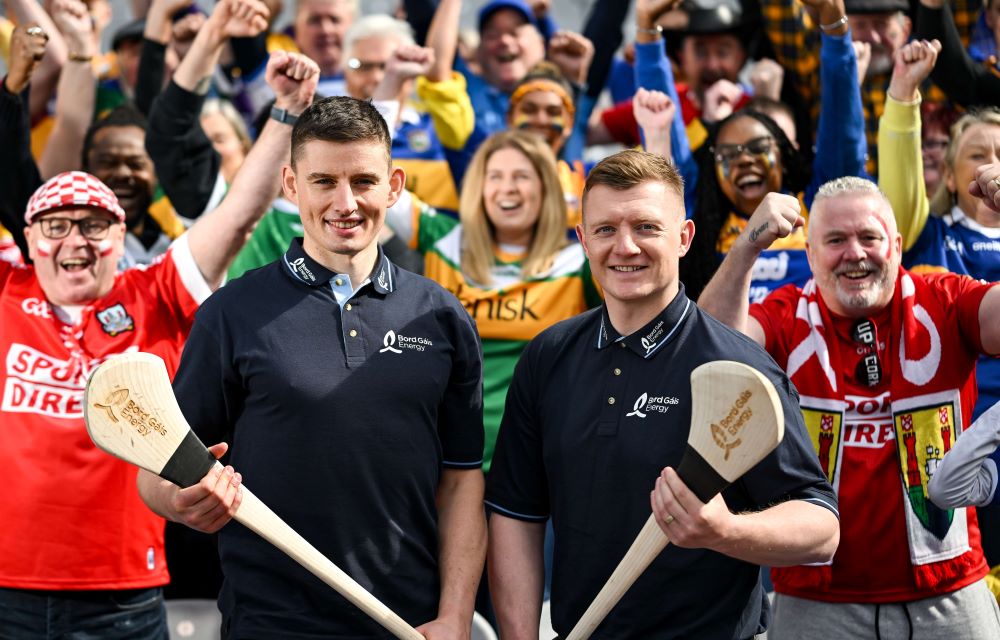 Bord Gáis Energy extends its partnership with the GAA and the Senior Hurling Championship until at least 2025.
Bord Gáis Energy, Ireland's leading home energy management and services provider has today launched 'It's Anyone's Game', a new campaign that will see the brand use its sponsorship of the GAA All-Ireland Senior Hurling Championship to celebrate and support the diversity and inclusivity that hurling brings to communities throughout the country.
With an exciting season of hurling ahead, Bord Gáis Energy also announced it will extend its sponsorship of the GAA All-Ireland Senior Hurling Championship until at least 2025.
It's Anyone's Game forms part of Bord Gáis Energy's ongoing commitment to using its high-profile sponsorship to champion hurling across the country, create positive discussion around inclusivity and demonstrate that hurling is a place for everyone. It follows on from its award-winning 'State of Play' campaign which saw the brand use its sponsorship platform to drive a conversation around inclusivity and champion allyship in team sports during Pride last year.  
This year, Bord Gáis Energy has once again teamed up with hurling legend Joe Canning and Limerick hurler Gearóid Hegarty. Other high-profile personalities taking part in the initiative include activist and sports journalist Joanne O'Riordan, former Leitrim hurler Zak Moradi and former Cork hurler Seán Óg Ó hAilpín.
As part of the campaign, Bord Gáis Energy is launching a new competition to uncover and spotlight personal stories from across the country celebrating inclusivity within the game. Each week throughout the championship, listeners of Newstalk's Off The Ball will be invited to share their 'It's Anyone's Game' story via WhatsApp.The competition will run from 24 April – 30 June with weekly prizes to include match tickets and signed jerseys and one overall prize of much coveted All-Ireland Final tickets.
To enter simply WhatsApp 086 786 9642 by text message or voice note and share your hurling story and why you believe hurling is anyone's game. For full competition details visit www.bordgaisenergy.ie/bgegaa.
Commenting on the launch of the campaign, Limerick hurler Gearóid Hegarty said: "I'm delighted to team up with Bord Gáis Energy once again to launch this year's championship and to lend my support to this campaign which celebrates the important role hurling plays in fostering diversity and inclusion. Sport is a great unifier and as a game that is played in schools, towns, and villages up and down the country, hurling plays a key role in Irish society and brings communities together. This campaign aims to celebrate the passion that people up and down the country have for the sport and uncover the stories of what hurling means to fans both old and new."
Managing Director of Bord Gáis Energy Dave Kirwan said: "At Bord Gáis Energy we believe in an open and equal society where each and every person can thrive. As a long-standing and proud partner of the GAA and sponsor of the All-Ireland Senior Hurling Championship, we're uniquely positioned to use our high-profile platform to celebrate and support inclusion in hurling.
We're delighted to announce an extension of our sponsorship of the championship until at least 2025. We look forward to continuing to make a real difference with our platform and supporting the GAA in this regard.
Our new campaign aims to support and celebrate diversity and inclusion in hurling by driving awareness that hurling is anyone's game whether you're a fan, a player or even helping out behind the scenes. Throughout the Championship, we'll be shining a spotlight on the people and the stories behind the game which celebrate the unifying power of the sport."
Uachtarán Chumann Lúthchleas Gael, Larry McCarthy added: "Bord Gáis Energy has been a very significant sponsor of the GAA Senior Hurling Championship since 2017 and we are delighted that they will be continuing this partnership with us until 2025. Their commitment to the promotion of the sport has been unwavering and we look forward to continuing our work with them.
It's Anyone's Game is a reflection of their inclusive and inspiring work which will no doubt bring about yet another very successful year for all involved. We are very grateful to Bord Gáis Energy for their ongoing support and the passion they bring to the promotion of hurling."
Fans can visit Instagram.com/bgegaa for news, and additional content or head to www.bordgaisenergy.ie/bgegaa for all the competition information.